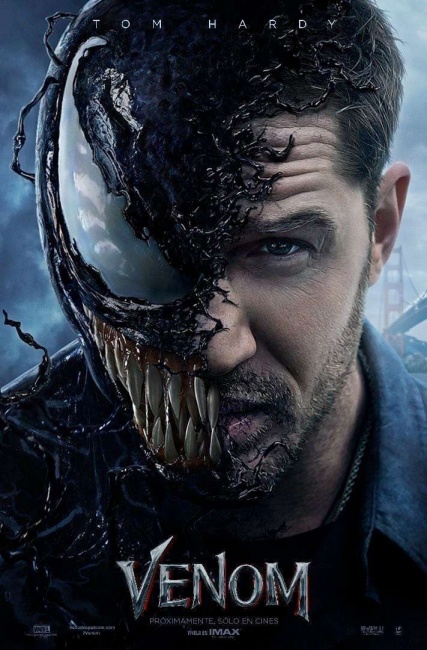 Ruben Fleischer's
Venom
is no "one-weekend wonder" like
Batman v. Superman
. The Tom Hardy-starring
Spider-Verse
spin-off slipped just 55.5% as it earned $35.7 million to stay well ahead of the hard-charging musical,
A Star Is Born
, and two newcomers, Damien Chazelle's First Man and the grade school-targeting
Goosebumps 2.
After setting an October record for total box office last weekend, the total box office this weekend was the sixth best ever, and 35.9% better than the same frame last year when
Happy Death Day
ruled the charts with a $26 million debut.
Thanks in part to a strong October so far the 2018 domestic box office is now running 10.2% ahead of the 2017 total, and 5.1% ahead of the box office record total of 2016.
Most box office analysts predicted a 60% or better drop for
Venom
in its second weekend, so the film's actual 55.5% drop has to be seen as a real win for Fox, the kind of solid showing that makes sequels about other
Spider-Verse
villains a foregone conclusion in franchise-happy Hollywood
. Venom's
sophomore drop Is very similar to that of the Fox X-Men spin-off
Logan
(-56%).
Venom
opened like a lower-tier Marvel release (
Ant-Man and the Wasp
), and appears to have the solid "legs" of the typical MCU film as well.
In its first ten days
Venom
has earned nearly $143 million here in North America. If
Venom
continues on its current box office course and plays like a mid-level Marvel release, it could finish its domestic run around $220 million. There is really no big "PG-13" event movie slated to hit theaters until the
Harry Potter
spin-off,
Fantastic Beasts: The Crimes of Grindelwald
bows on November 16, so
Venom
will have little direct competition over the next month.
Venom
is also doing well internationally, where it remained the #1 film for the second weekend in a row with $69.7 million, bringing its overseas earnings to $235.3 million and its global total to $378.1 million. This strong overseas showing has been accomplished without China, the world's second biggest movie market. Despite the fact that
Venom
has a "PG-13" rating, it has yet to secure a release in the Middle Kingdom, and Hollywood moguls just might be in the same boat as Midwestern soybean farmers, if the Trump administration's trade war with China continues much longer.
Some box office analysts thought that well-reviewed musical
A Star Is Born
would overtake
Venom
by this time, and even though the Bradley Cooper/Lady Gaga remake dropped just 34.7%, it wasn't able to catch Sony's sprinting symbiote. Given the box office patterns of its older target audience, this early Oscar favorite musical will catch
Venom
, possibly as early as next weekend (though it is no sure thing that
A Star Is Born's
full domestic total--currently at $94.2 million—will ever top
Venom's
).
Internationally it is a different story, as
Star
has earned just $41 million from all possible markets except Australia and Japan, and will never match
Venom's
overseas numbers. Even though most musicals don't "travel" as well as event movies, with the success of
A Star Is Born
following on that of Damien Chazelle's
La La Land
in 2016 and the Hugh Jackman-starring
The Greatest Showman
in 2017, means that the musical genre is back, and that we can expect more big screen screechfests starting with
Bohemian Rhapsody
on November 2.
Speaking of Damien Chazelle, coming in a bit under expectations was Chazelle's latest film, the real life space epic
First Man
, which debuted with an estimated $16.5 million, about on par with Steven Spielberg's "prestige Cold War epic"
Bridge of Spies
in 2015. This Neal Armstrong biopic is doing extremely well with the critics (with an 88% positive rating on review aggregator Rotten Tomatoes), but audiences, which skewed male (56%) and older (52% over
35
), just gave the film an OK "B+" CinemaScore.
Weekend Box Office (Studio Estimates): October 12-14, 2018

Film

Weekend Gross

Screens

Avg./Screen

Total Gross

Wk#

1

Venom

$35,700,000

4,250

$8,400

$142,802,151

2

2

A Star is Born

$28,000,000

3,708

$7,551

$94,160,360

2

3

First Man

$16,500,000

3,640

$4,533

$16,500,000

1

4

Goosebumps 2: Haunted Halloween

$16,225,000

3,521

$4,608

$16,225,000

1

5

Smallfoot

$9,300,000

3,606

$2,579

$57,608,221

3

6

Night School

$8,035,000

2,780

$2,890

$59,843,950

3

7

Bad Times At The El Royale

$7,225,000

2,808

$2,573

$7,225,000

1

8

The House With A Clock In Its Walls

$3,975,000

2,791

$1,424

$62,251,500

4

9

The Hate U Give

$1,765,000

248

$7,117

$2,477,314

2

10

A Simple Favor

$1,380,000

1,452

$950

$52,037,508

5
Noting the age of the first weekend audience for First Man, Universal is expecting that the film will have solid "legs" that could last through Oscar season, if the film gets enough nominations in key categories. The controversy swirling about the director's choice not to replicate Armstrong's planting of the American flag on the surface of the Moon, likely softened box office interest among the film's older male demographic given the flag-waving ultra-nationalism infecting national politics these days.

Debuting in fourth place was the Sony horror sequel Goosebumps 2, which earned an estimated $16.2 million, well down from the $23.7 million opening of the original Goosebumps. With direct competition from The House With a Clock In Its Walls, which also "starred" the kid-favorite actor Jack Black, Goosebumps 2 is running on the strength of the franchise (author R.L. Stine has sold over 400 million copies of his numerous Goosebumps YA horror sagas). Sony cut the budget from $58 million for the first Goosebumps to $35 million for the sequel, and opening weekend audiences, which were 50% female, and younger (73% under 25), gave the film a mediocre "B" CinemaScore. How Goosebumps 2 fares next weekend should provide an interesting example of the power of a franchise up against poor word-of-mouth.

Warner Bros. Animation's Smallfoot continues to lumber along, earning $9.3 million in its third weekend, driving its domestic total to $57.7 million, while the Tiffany Haddish/Kevin Hart comedy Night School added $8 million to bring its North American total to $59.8 million.

Debuting in the seventh spot was Drew Goddard's neo-noir Bad Times at the El Royale, which earned a disappointing $7.2 million. With a $32 production cost, this period thriller set in a seedy Tahoe hotel on the California/Nevada border in 1959, needs to do a lot better to have a chance to make it into the black. As was the case First Man, the critics liked El Royale (70% positive on RT) much more than audiences (that skewed male--53% --and older---73% over 25), who bestowed a lowly "B-" CinemaScore on the film.

Ninth place went the The Hate U Give, which earned $1.8 million from just 248 locations for one of the best per-venue averages of the weekend ($7,117). This adaptation of the YA novel by Angie Thomas deals with some of the most pressing issues of the day, and proves that the YA genre encompasses a lot more than just fantasy, horror, and romance. Thanks to a breakout performance by Amandla Stenberg, The Hate U Give film also has ambitions to break out of its genre and attract a wider audience.

Fox is planning to expand The Hate U Give to more than 2,300 theaters next weekend, but it will face stiff competition, notably from the nostalgia-laden slasher film Halloween, a direct sequel to the 1978 original, which opens in over 3,700 theaters, while Fox Searchlight is expanding the Robert Redford-starring The Old Man & the Gun onto more than 600 screens.