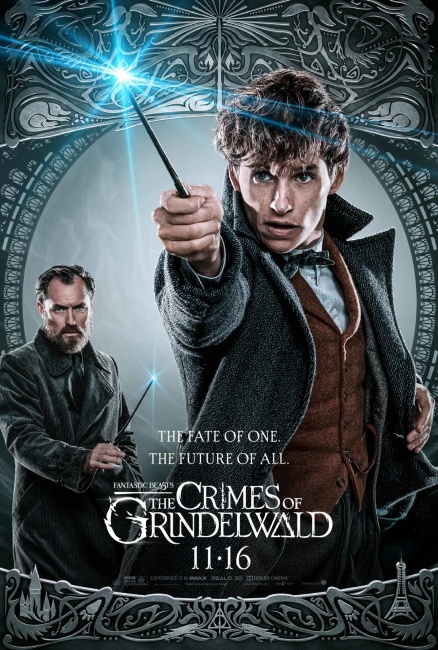 The
Harry Potter
spin-off sequel
Fantastic Beasts 2: The Crimes of Grindelwald
topped the box office with an estimated $62 million, while two other newcomers made the top five, but the overall box office was still down 14.5% from the same weekend a year ago when
Justice League
topped the charts with $93 million.
Overseas
Venom
continued to dominate in China where it has made $207 million in ten days, almost as much as the
Spider-Verse
spin-off has made in North America in seven weeks ($210 million). With $780 million worldwide cumulative already,
Venom
appears a sure thing to cross the $800 million mark.
Written by J.K. Rowling and directed by David Yates,
Fantastic Beasts 2: The Crime of Grindelwald
is the second in a series of "prequel films" set in the same elaborate fantasy universe that Rowling created in her
Harry Potter
books. The Fantastic Beasts films represent an attempt by Warner Bros. to make up for the loss of the
Potter
franchise, though at least in North America the appeal of the new series appears to be fading a bit.
The first
Fantastic Beasts
film made $74.4 million during the pre-Thanksgiving weekend in 2016, and eventually ended up with $234 million here in North America. But
The Crimes of Grindelwald
has received worse reviews than its predecessor and a lower CinemaScore grade (a "B+" versus an "A") from audiences that skewed female (57%) and a bit older (69% over 25), so matching the first
Fantastic Beasts'
performance here in North America would appear to be unlikely.
But the North American market accounted for just over 28% of the first
Fantastic Beasts
movie's total, and there is a solid chance that
The Crimes of Grindelwald
will make up for its North American shortcomings overseas where it earned $191 million so far. The first
Fantastic Beasts
film earned $814 million worldwide, and
The Crimes of Grindelwald
, which cost a reported $200 million to make, will have to do similar business to be successful.
Last week's winner
Dr. Suess' The Grinch
fell just 43.5% as it earned $38.2 million to bring its ten-day total to $126.5 million.
The Grinch
will face strong direct competition when Disney's
Ralph Wrecks the Internet
opens on Wednesday, but
The Grinch's
holiday theme should keep the movie in theaters for weeks to come.
Bryan Singer's Queen biopic
Bohemian Rhapsody
continues to spin its box office magic, dropping just 49.7% in its third weekend as it earned $15.7 million to bring its domestic total to $127.9 million. Unlike the typical American Broadway musical,
Bohemian Rhapsody
has major worldwide appeal—it has already made 256 million overseas, and is approaching $400 million worldwide already, all on a budget of just $52 million.
Weekend Box Office (Studio Estimates): November 16-18, 2018

Film

Weekend Gross

Screens

Avg./Screen

Total Gross

Wk#

1

Fantastic Beasts: The Crimes of Grindelwald

$62,200,000

4,163

$14,941

$62,200,000

1

2

Dr. Seuss' The Grinch

$38,165,000

4,141

$9,216

$126,544,280

2

3

Bohemian Rhapsody

$15,700,000

3,810

$4,121

$127,885,859

3

4

Instant Family

$14,700,000

3,286

$4,474

$14,700,000

1

5

Widows

$12,300,000

2,803

$4,388

$12,300,000

1

6

The Nutcracker and the Four Realms

$4,678,000

2,635

$1,775

$43,870,690

3

7

A Star is Born

$4,350,000

2,010

$2,164

$185,840,907

7

8

Overlord

$3,850,000

2,859

$1,347

$17,742,889

2

9

The Girl in the Spider's Web: A New Dragon Tattoo Story

$2,500,000

2,929

$854

$13,290,523

2

10

Nobody's Fool

$2,260,000

1,301

$1,737

$28,887,618

3
The "blended family" comedy Instant Family has garnered excellent reviews (81% positive on review aggregator Rotten Tomatoes) as well as an "A" CinemaScore from opening weekend audiences that skewed heavily female (65%) and older (61% over 35). Word-of-mouth should keep Instant Family in theaters for quite some time, but the film's below expectations debut ($14.7 million) will make it difficult for this pricy comedy ($48 million production cost) to make it into the black.

Steve McQueen's Widows, which was scripted by novelist Gillian Flynn from a U.K. TV series, opened disappointingly with an estimated $12.3 million. While Widows has a stellar 91% positive ranking on review aggregator Rotten Tomatoes, opening weekend audiences gave the film a disappointing "B" CInemaScore, which puts this award-hopeful genre film in some jeopardy. Widows is the kind of smart, female-fronted genre film that many people say that want to see, but so far at least, they aren't showing up for one of the most interesting and sophisticated genre films of 2018.

A crowded marketplace can be a tough environment for films like Widows, and for other adventurous genre films like the Nazi/zombie film Overlord, which tumbled 62.3% from its in auspicious debut, or the latest film in The Girl With the Dragon Tattoo franchise, The Girl in the Spider's Web, which plummeted 68% from its poor opening.

In limited release, there are a couple of Oscar hopefuls worth watching. The feel-good, Jim Crow-era racial drama Green Book averaged an OK $12,480 per screen from 25 theaters and earned a coveted "A+" CinemaScore, while the Vincent Van Gogh biopic At Eternity's Gate averaged $23K from four theaters.

Next week will see even more films added to an already crowded marketplace, starting on Wednesday with the release of Disney's animated Ralph Wrecks the Internet in 3,800 locations, while MGM will open the boxing movie Creed II, and Lionsgate will unveil yet another film devoted to the exploits of the medieval legend, Robin Hood.