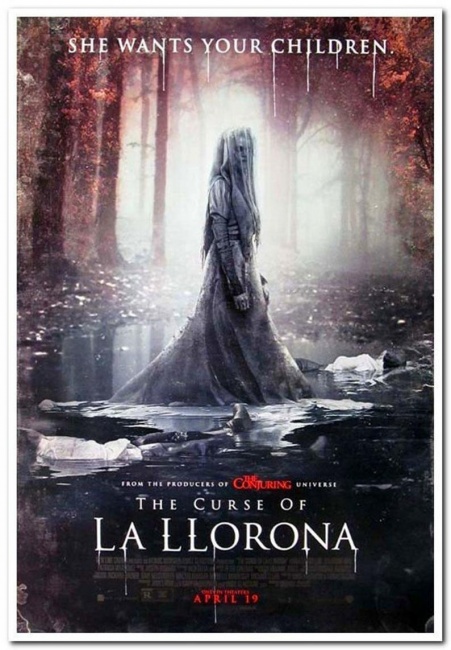 Warner Bros.' horror film
The Curse of La Llorona
easily captured the weekend box office with a better-than-expected $26.5 million, but this was the weakest Easter holiday weekend since 2005 (not adjusting for inflation, which would make it even worse), with a 13% drop from the same frame a year ago when
A Quiet Place
moved back to #1 in its third weekend of release as it earned $20.9 million.
The poor year-over-year showing marks the third straight subpar weekend in April, a trend that could be reversed in a big way next weekend with the release of
Avengers: Endgame
. That mammoth Marvel release is at least partially responsible for this Easter weekend's poor showing, since the other studios were reluctant to release major films just one week before the
Avengers
are slated to suck most of the money out of the weekend box office.
So that left Easter weekend up for grabs, and it should come as no surprise that the only other genre that can compete with superheroes for consistent box office profitability, the horror film, should supply the winner of this year's Easter box office derby.
The Curse of La Llorona
was produced by James Wan, and, though it is based on a Mexican ghost story about a spirit that steals children, it is also loosely tied to
The Conjuring Universe
through the character Father Perez, who appears in
Annabelle.
Produced for just $9 million,
The Curse
has already earned $57 million worldwide. While it won't match
Annabelle: Creation's
numbers ($306.5 million worldwide),
The Curse of La Llorona
is already in the black. The R-rated spook spectacle earned a "B-" CinemaScore from opening weekend audiences, but remember horror movie fans don't grade on a curve, so what is a poor grade for another genre, can be OK for a horror film. Hispanics are always an important part of the horror movie audience, and given the Latin American theme of
The Curse
, it is no surprise that they made up 45% of the crowd, which skewed female (56%) and younger for an R-rated movie with 80% under 35.
Warner Bros./New Line, which produced
The Curse
, had the #2 film as well.
Shazam!
dropped just 29.1% in its third frame as it earned $17.3 million to bring its domestic total to $121.3 million. This is one of the best 3-week "holds" ever for a superhero film (though it should be noted that
Shazam!'s
opening was not of the magnitude of the top tier spandex heroes).
With a current global tally of $322.9 million,
Shazam!
, which was produced for $90-100 million, looks like a solid winner, and it should be able to add to its total even after the
Avengers
-led box office apocalypse next weekend (
Black Panther
earned almost $16.5 million after the
Avengers: Infinity War
opened, so the way is clear for
Shazam!
and
Captain Marvel
to pad their totals a bit over the next few weeks).
Weekend Box Office (Studio Estimates): April 19-21 2019

Film

Weekend Gross

Screens

Avg./Screen

Total Gross

Wk#

1

The Curse of La Llorona

$26,505,000

3,372

$7,860

$26,505,000

1

2

Shazam!

$17,340,000

4,183

$4,145

$121,341,951

3

3

Breakthrough

$11,100,000

2,824

$3,931

$14,606,925

1

4

Captain Marvel

$9,100,000

2,653

$3,430

$400,026,133

7

5

Little

$8,451,000

2,667

$3,169

$29,380,410

2

6

Dumbo

$6,800,000

3,225

$2,109

$101,254,910

4

7

Pet Sematary

$4,850,000

3,146

$1,542

$49,583,075

3

8

Missing Link

$4,369,756

3,437

$1,271

$12,976,997

2

9

Us

$4,264,000

2,264

$1,883

$170,444,620

5

10

Hellboy

$3,880,000

3,303

$1,175

$19,676,271

2
One Easter box office trend that has been building over the past few years is the release of a faith-themed film. This year it was Breakthrough, the story of a boy in a coma who makes a miraculous recovery, which earned $11.1 million over the 3-day weekend and $14.6 million over the 5 days from its Wednesday opening. Breakthrough, which did especially well in Bible Belt states like Missouri and Tennessee, earned an excellent "A" CinemaScore from opening weekend audiences that skewed heavily female (65%) and older (70% over 25).

Marvel Studios' Captain Marvel got what can only be called a "pre-Avengers" bounce with a seventh weekend total that was 5.7% higher than its sixth weekend tally. The superhero origin saga earned $9.1 million here in North America to drive its domestic total to just over $400 million. Captain Marvel is now the 34th film to top that mark, and the seventh film from the MCU to attain that distinction. It is quite possible that Captain Marvel, which has now earned $1.089 billion worldwide, will pass Wonder Woman's domestic total of $412.5 million in 2017, and maybe even Jurassic Park: Fallen Kingdom's $416 in 2018.

Universal's body-switching comedy Little slipped 45.1% and remains on course to at least break even, while Tim Burton's live-action/hybrid Dumbo became the eighth film of 2019 to surpass $100 million. Dumbo has now earned $307.9 million worldwide, but the film's $170 million production cost means that it won't turn a profit theatrically.

Laika's well-reviewed stop-motion animated Missing Link posted the smallest drop in the Top Ten (not counting Captain Marvel, which gained $5.7%), slipping just 26.5%, but the film earned just $4.37 million in its second weekend, and its domestic total is just shy of $13 million—a big disappointment given the quality of Laika's productions.

Jordan Peele's Us slipped to #9 in its fifth weekend of release, but it earned $4.2 million to bring its domestic total to $170.4 million. While it may not catch 2018's top original horror film release, John Krasinski's A Quiet Place, which earned $188 million here in North America, Us is the number one "original" screen property released in 2019 so far, and is likely to remain on top in a category that is increasingly dominated by horror movies.

While superhero films continue to dominate the box office, they aren't always successful. Case in point the first non-Del Toro Hellboy movie, which plummeted 67.8% in its second weekend, earning just $3.8 million and bringing its domestic total to $19.7 million. The 67.8% drop is among the worst ever for a superhero film, putting Hellboy in a category with one-week wonders like Man of Steel, Elektra, and Jonah Hex.

Two films of interest debuted outside the top ten. The "Disney Nature" feature Penguins earned $3.2 million in its 5-day Easter Week opening, one of the worst showings yet for the fading "Disney Nature" films, which will nonetheless likely become beloved staples on the Disney+ streaming service. Meanwhile the Hindi language period drama Kalank earned $1.25 million from just 320 theaters demonstrating that there is another underserved (and growing) movie audience.

Be sure to check back here next weekend. Only one new film will open, but it will be Avengers: Endgame, which is currently slated for 4,400 theaters, and which some experts expect will provide the first $300 million opening in box office history.