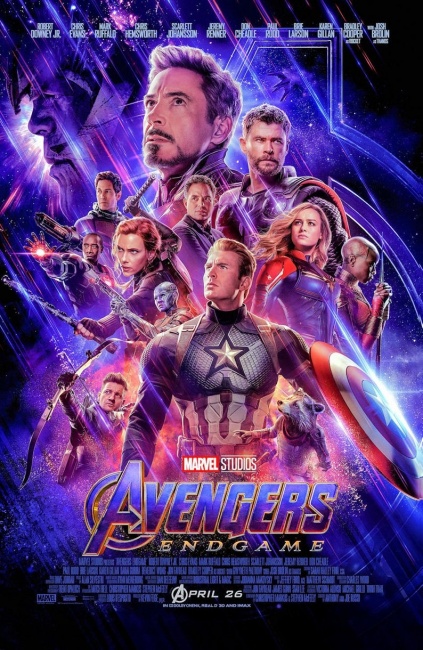 Marvel Studios' juggernaut,
Avengers: Endgame
, topped the charts for a third straight weekend, but it scored only a narrow victory over Warner Bros.' live-action hybrid
Detective Pikachu
, which set a new domestic record for a video game adaptation with a $58 million opening weekend.
Ever since
Endgame
debuted on April 26 the box office has been on a tear, and once again the year-over-year results were positive with the top 12 films earning 28.4% more than their counterparts did on this weekend last year when
Avengers: Infinity War
topped the charts for the third weekend with $62 million.
Avengers: Endgame
did fall a bit farther than projected, 57.2% here in North America, and 64% overseas, but it remained the #1 film worldwide. Earning an estimated $63 million this weekend,
Endgame
drove its domestic cumulative to $723.5 million, the third highest total ever (not adjusting for inflation). In the next few weeks
Endgame
will surpass
Avatar
($760.5 million), but it doesn't appear to be a danger to
Star Wars: The Force Awakens'
$936.7 million record.
Avengers: Endgame
has now earned $2.485 billion worldwide, the second highest total ever (again not adjusting for inflation).
Endgame
still trails
Avatar's
global record by just $302 million, and it appears likely to end up in second place in both the global and domestic all-time lists. But
Endgame
does have its own share of records. It is the highest earning superhero film ever, and this weekend it became the highest-grossing Hollywood film in the history of the Chinese market with a $610 million haul.
Warner Bros.'
Detective Pikachu
, a live-action hybrid with Ryan Reynolds voicing the cuddly protagonist with a much more restrained vocabulary than he employs as
Deadpool
, earned $58 million to pass the previous record for a video game adaptation, $47.7 million earned by the
Lara Croft Tomb Raider
in 2001 (though if you account for inflation
Tomb Raider
remains on top with and adjusted total of $75.9 millon).
Detective Pikachu
was the first video game-based film that graded out as "fresh" on review aggregator Rotten Tomatoes, albeit barely so at 63%, but audiences liked it a bit better giving it an "A-" CinemaScore (a grade equaled by only 6 previous video game adaptations, three of which were animated
Pokemon
movies). Opening weekend audiences definitely skewed to the younger side with 49% of the crowd under 25, and 27% under 18.
Internationally
Detective Pikachu
has earned $112 million for a global total of $170 million.
Detective Pikachu
, which cost $150 million to produce, is off to a good start, but still has quite a way to go to make it out of the red. One troubling note is the film's mild-mannered debut in China where it earned just $40 million during its opening weekend. Like Warner Bros.
' Shazam!,
which earned just $43 million in the Middle Kingdom,
Detective Pikachu
looks like it will be a disappointment in the world's second biggest market. While Warner Bros. earns twice as much from tickets sold in North America than it does from Chinese sales,
Detective Pikachu's
soft opening could mean that, although it may well become the top video game adaptation here in North America, it will have a hard time catching the
World of Warcraft
-based
Warcraft
, which has the "global title" for video game-based films, having earned $433 million worldwide in 2016 (only $47 million here, but $213 million in China).
Weekend Box Office (Studio Estimates): May 10-12 2019

Film

Weekend Gross

Screens

Avg./Screen

Total Gross

Wk#

1

Avengers: Endgame

$63,054,000

4,662

$13,525

$723,499,739

3

2

Pokemon Detective Pikachu

$58,000,000

4,202

$13,803

$58,000,000

1

3

The Hustle

$13,536,298

3,007

$4,502

$13,536,298

1

4

The Intruder

$6,600,000

2,222

$2,970

$20,975,126

2

5

Long Shot

$6,125,000

3,230

$1,896

$19,736,935

2

6

Poms

$5,110,000

2,750

$1,858

$5,110,000

1

7

Uglydolls

$3,920,000

3,652

$1,073

$14,272,796

2

8

Breakthrough

$2,466,000

1,902

$1,297

$37,106,806

4

9

Tolkien

$2,153,000

1,495

$1,440

$2,153,000

1

10

Captain Marvel

$1,813,000

1,504

$1,205

$423,777,079

10
Third place went to The Hustle, which stars Anne Hathaway and Rebel Wilson in a distaff remake of the 1988 con men comedy Dirty Rotten Scoundrels, which itself was a remake of the 1954 Marlon Brando/David Niven film Bedtime Story. The Hustle, which earned $13.6 million, is an example of counter-programing, providing female moviegoers with an alternative to testosterone-fueled blockbusters, and it is no surprise that females made up 72% of the crowd. While Poms (see below) attracted older females, 66% of The Hustle audience was under 35.

Deon Taylor's psychological thriller The Intruder dropped just 39.2% in its second weekend, earning $6.6 million. This $8 million production has brought in $21 million in ten days, making it a modest hit already.

Not so fortunate yet is the Seth Rogen/Charlize Theron comedy Long Shot, which rebounded a bit from a weak opening, dropping just 37.1% as it earned $6.1 million to bring its domestic total to $19.7 million.

Poms, which stars Diane Keaton, clearly targets older women. This saga of women who form a cheerleading squad at a retirement home, opened with $5.1 million, a far cry from the $13.5 million that the similarly aimed Book Club scored last year. While it has only a 29% fresh rating on Rotten Tomatoes, Poms did earn a "B+" CinemaScore from opening weekend audiences, which skewed heavily female(75%) and older, with 85% over 25 (and 27% over 55).

Debuting disappointingly just outside the top ten was the biopic Tolkien, based on the life of J.R.R. Tolkien, creator of The Lord of the Rings. Despite a TV ad campaign designed to appeal to LOTR fans, Tolkien earned just $2.1 million, with a meager per-venue average of just 1,419.

Be sure to check back here next week to see if Endgame and Detective Pikachu can withstand the challenge of the heavily-advertised action film John Wick: Chapter 3—Parabellum, which heads to 3,600 theaters, while Universal's A Dog's Journey opens at 3,200 locations, and Warner Bros.' YA romance The Sun Is Also a Star hits over 2,100 screens.