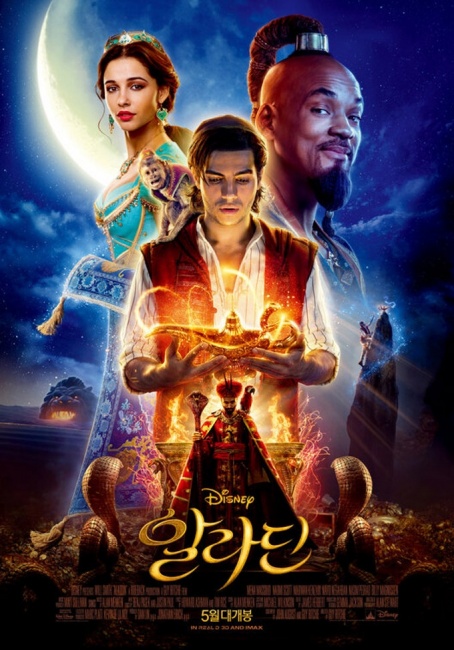 Guy Ritchie's live-action/hybrid adaptation of Disney's 1990 animated feature
Aladdin
earned $86.1 million over the first 3 days of the Memorial Day weekend, which is more than analysts had figured it would earn over the full 4-day frame. With help from 3 stalwart holdovers
Aladdin
kept the year-over-year deficit for the Memorial Day weekend down to just 4.7% below last year's total when
Solo: A Star Wars Story
opened with $84.4 million for the 3-day (and $103 for the full weekend).
Aladdin
too should finish the weekend over $100 million, with some analysts even predicting a $110 million total, which put
Aladdin
in the top five Memorial Day openings ever (not adjusting for inflation). Top five finishes are fine, but after the disappointing domestic run for Tim Burton's
Dumbo
, Disney just needed a "win" in its extensive program of "live-action" remakes of animated movies from the studio's vault. With a worldwide three-day total of $207 million,
Aladdin
does look like a box office winner, though competition will be fierce over the coming weeks.
While
Solo: A Star Wars Story
had production problems that led to a bloated $275 million production budget,
Aladdin's
cost came in at $183 million, which means that unlike
Solo
,
Aladdin
, which will earn as much here in North America in its first five or six days as
Dumbo
has in its entire run, should end up in the black. But Memorial Day box office winners have traditionally been very front-loaded, so it will be interesting to see what kind of "legs" that
Aladdin
can demonstrate both here and overseas over the next month.
Aladdin
certainly didn't wow the critics. It currently has a mediocre 57% positive rating on review aggregator Rotten Tomatoes, but audiences, which skewed a bit female (54%) and older (54% over 25) liked it a lot more, giving it a sold "A" CinemaScore.
Second place went to the action movie
John Wick: Chapter 3—Parabellum
, which dropped 57.1% from its impressive opening as it earned $24.4 million over the 3-day, put its 10-day total at $101 million, which means that it has already earned more here in North America than either of its predecessors did in their entire runs. It is no surprise that Lionsgate has already scheduled
John Wick 4
for release in May of 2021, since
John Wick 3
is performing at the domestic box office like a
Bourne
or
Mission: Impossible
film.
Weekend Box Office (Studio Estimates): May 24-26 2019

Film

Weekend Gross

Screens

Avg./Screen

Total Gross

Wk#

1

Aladdin

$86,100,000

4,476

$19,236

$86,100,000

1

2

John Wick: Chapter 3 - Parabellum

$24,350,000

3,850

$6,325

$100,988,941

2

3

Avengers: Endgame

$16,841,000

3,810

$4,420

$798,172,736

5

4

Pokemon Detective Pikachu

$13,300,000

3,824

$3,478

$116,122,622

3

5

Brightburn

$7,535,000

2,607

$2,890

$7,535,000

1

6

Booksmart

$6,512,154

2,505

$2,600

$6,512,154

1

7

A Dog's Journey

$4,090,000

3,279

$1,247

$14,920,535

2

8

The Hustle

$3,812,554

2,377

$1,604

$29,837,523

3

9

The Intruder

$2,265,000

1,612

$1,405

$31,930,541

4

10

Long Shot

$1,565,000

1,354

$1,156

$28,693,097

4
Third place went Marvel Studios' Avengers: Endgame, which slipped 43.8% as it earned $16.8 million for the 3-day weekend. By the end of the 4-day period Endgame will be only the second film to earn over $800 million at the domestic box office. Endgame added $15.4 million overseas to bring its worldwide total to $2.677 billion, which is just $111 million behind Avatar's global record.

Is Endgame, which should have earned $804 million by Tuesday morning, really the second most popular film here in North America? Well, it's a huge hit, but if you adjust for inflation it's currently in 19th place, having just passed Raiders of the Lost Ark and The Sting.

Warner Bros.' video game-based, live-action hybrid Detective Pikachu continued its solid, though unspectacular run, earning $13.3 million for the 3-day weekend. The $150 million production should finish the weekend with $120 million domestic and $237 million overseas for a worldwide total of $357 million, which still lags behind the video game-based movie record set by Warcraft ($433 million) in 2017.

The genre mashing horror/superhero film Brightburn, which was produced by James Gunn, earned just $7.5 million for the 3-day weekend, not the sort of debut that many who first saw the online teaser trailer about this "evil superman" saga imagined. This R-rated superhero/horror mash-up was produced for just $6 million, so nobody's going to lose money here, but we are still waiting for an independently created superhero IP to break out, given the popularity of the genre.

Opening weekend audiences for Brightburn skewed male (58%) and older (64% over 25), and they gave the film a poor "C+" CinemaScore (though it should be noted that horror movie audiences are tough graders when compared to fans of other genres).

Olivia Wilde's Booksmart won over the critics almost completely. It currently has a 98% positive rating on Rotten Tomatoes, but audiences, which skewed heavily female (61%) and younger (79% under 25), were less effusive, giving the film a "B+" CinemaScore. Booksmart earned $6.5 million over the first 3 days of the frame, which was a bit of a disappointment, though it too early to be definitive about the film's prospects.

With the exception of the low-budget thriller The Intruder, which has earned $32 million on an $8 million budget, the other films in the bottom half of the top ten, A Dog's Journey, The Hustle, and Long Shot, are all box office duds. It would be interesting to learn what percentage of Hollywood films actually make money, though given studio accounting practices, that would be a hopeless task.

Be sure and check back here next weekend to see what happens with the release of a trio of new films led by Godzilla: King of the Monsters, which opens in over 4,100 theaters, and also includes the psychological horror film Ma, which stars Olivia Spencer, as well as the Elton John biopic Rocketman, which hopes to duplicate the success of Bohemian Rhapsody.