Confessions of a Comic Book Guy is a weekly column by Steve Bennett of Super-Fly Comics and Games in Yellow Springs, Ohio. This week, Bennett looks at the upcoming Young Donald Duck, from IDW Publishing.

I don't like to complain, which is a shame seeing how good I am at it, but when life can already be so daunting without it deliberately taunting me… As anyone who has read these things already knows, I've never been to attend Comic-Con in San Diego and most likely I never will; it's not a tragedy, just an irritant. I don't even think about it anymore, that is until I learned that this year it starts on July 18; my 60th birthday. This was bad enough but then I learned that on the same day Comic-Con would be having a showing of The Banana Splits Movie, the slasher horror version of my Saturday Morning childhood favorite, The Banana Splits Adventure Hour (see "Confessions Of A Comic Book Guy - Spider-Man: A Suitable Case For Treatment"). I can only see this as the injury which follows the insult.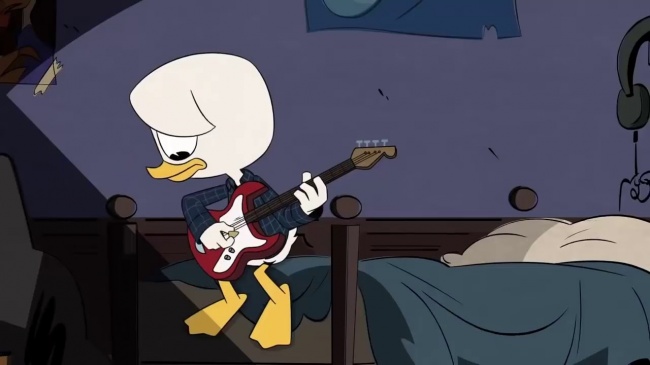 Last December I wrote about the
DuckTales
Christmas episode "Last Christmas!" (see "
Confessions Of A Comic Book Guy - You Never Know Until You Do
"). Along with featuring an exceptionally good and original version of Dickens'
A Christmas Carol
, it also had an appearance by a belligerent young emo Donald Duck. I've never been all that crazy about Donald, what with his arrogant entitlement and hair-trigger rage, but Young Donald, he was interesting and I hoped I would see more of him.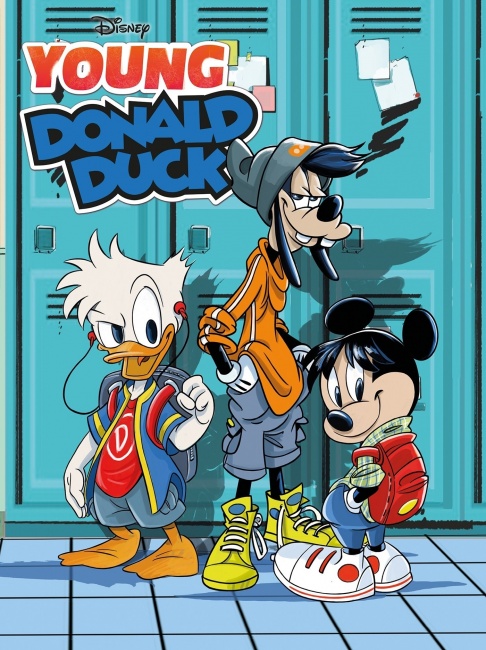 Which I why I was intrigued when I saw a solicitation for something called
Young Donald
in the IDW section of
Diamond Previews
. Especially when I learned it was Italian comics artist and writer Francesco Artibani, who's written some of my favorite
Mickey Mouse
comics (
Mickey Mouse Vol. 6: Darkenblot
,
Mickey Mouse Vol. 4: Shadow Of The Colossus
,
X-Mickey
). This
Young Donald
appears to have nothing to do with the one from the
DuckTales
episode, but rather has a tween Donald relocating to the big city where he meets junior versions of Mickey and Goofy. So, basically, it seems to be
Disney Kids
, not that that's anything wrong with that, especially when it's written by Artibani.
Young Donald
does have a couple of other points of interest. Like, seeing as how Artibani usually works for Disney Italy, and there aren't a lot (if any) Disney Comics featuring the classic characters currently being done right now in America, I automatically assumed the series originated in Europe. But according to a piece on the Italian
MegaNerd
website,
Young Donald Duck – L'adolescenza di Paperino scritta da Francesco Artibani
(which translates as
Young Donald Duck - Donald Duck's Adolescence Written by Francesco Artibani
), this isn't the case. As the subheading puts it, "Young Donald Duck is coming, an unpublished story that the Italian author will write for the American publisher IDW, ready to reveal Donald's adolescence." In the piece, it's confirmed that Artibani "will write directly for the American IDW, which publishes in the States the Disney comics."
The other interesting thing is that it's going to be published first as a trade paperback; instead of as individual issues that would be collected later. This makes sense in America, given
Young Donald
isn't going to do particularly well in direct sales shops, and demonstrates how important kids graphic novels have become to the American comics industry. Another example of this being the number of Comic-Con panels devoted to the subject: "Graphic Novels ARE Books," "Changing Parent and Educator Opinions on Graphic Novels," "Kids and YA Graphic Novel Publishing: Behind the Scenes," "LGBTQ+ YA Graphic Novels," "Science and History Comics for Kids."
But it's also interesting to note this also seems to the case in (at least) Brazil, Germany, and the Netherlands. In fact, the only country where
Young Donald
is definitely being serialized first is in the Italian Disney comic
Topolino.
You know, I've read about
Topolino
for almost as long as I've read about comics, but, I've never thought much about why Mickey Mouse is known as Topolino in Italy. Until I started looking for things that I could cut and paste together (i.e. "doing research") and call a column, which is how I found
Mickey Mouse is totally different in Italy, and it's blowing our Disney-loving minds
from 2017. The story itself is too long and involved to get into here, but not this Bonus Fun Fact: "Topolino was famously the last character to be banned from fascist Italy by Benito Mussolini, just because the dictator's kids liked the little dude a whole lot."
One of the things about poking around the Internet more or less at random (which has become my "process" when it comes to doing research) is that you're almost guaranteed to learn not just "something," but something entirely unexpected, and most likely, something you should have already known. In this instance, while researching Francesco Artibani I discovered that the Insight Kids imprint of Simon & Schuster had just published the first volume of Artibani's
Monster Allergy
. It's a comic series he did for Disney Italy in 2003 with Barbara Canepa (with whom he also collaborated on another comic for Disney,
W.I.T.C.H.,
as well as
Skydoll
) about a boy named Zick who has a lot of allergies, including one which allows him to see the otherwise invisible monsters around him. Unlike
W.I.T.C.H.
it's never been translated into English before, though there are three volumes titled
Monster Allergy New Gen
on
comiXology
in German.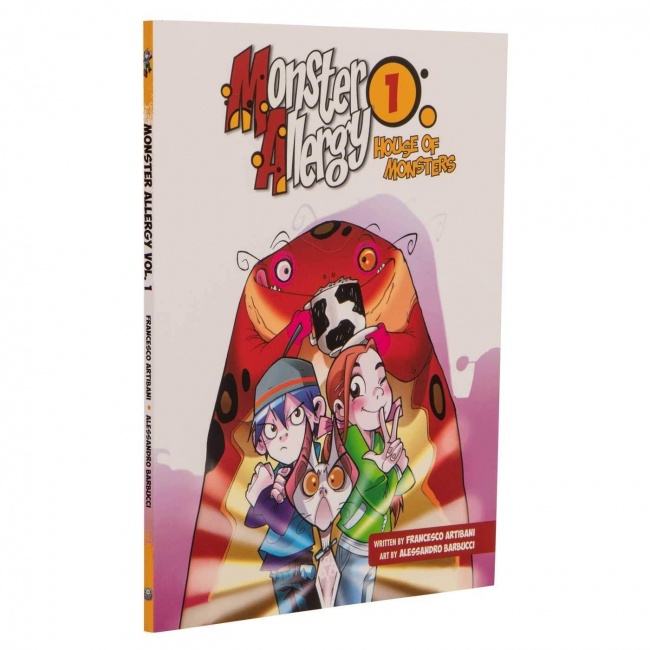 The animated series, however, did make it to America in September 2006 as part of the Kids WB television block on the then-new The CW network. Having enjoyed W.I.T.C.H. I was looking forward to seeing it, but was disappointed by both the dub and the choppy editing. According to Wikipedia it "was shown with scenes edited or cut for time constraints and due to censorship, and the airing order did not follow production order." Apparently, a new dub was later commissioned, and (I just learned) the unaltered version with the new dub is available on YouTube, so I may give it a second chance. I know I definitely want to read
Monster Allergy, Vol. 1: House of Monsters.
I've previously written of my love for the character Honey Badger, a.k.a. Gabby, tough-as-nails clone/little sister of X-23, a.k.a. Laura Kinney (see "
Confessions of a Comic Book Guy - We Fear Change
"). Well,
Marvel's Honey Badger Got a Brand New Code Name in the Final Issue of X-23
. For plot specific purposes she's decided to take the name Scout. Marvel is hopefully aware writer/artist Tim Truman has a character with that name, and that thanks to Harper Lee's novel
To Kill A Mockingbird
there is any number of girls actually called that. As codenames go, I'm not crazy about Scout, but have to admit both it and her new uniform probably gives her a better chance of achieving the mainstream exposure she so richly deserves -- and I really want to see an animated version of her in an upcoming
Marvel Rising
special.
The opinions expressed in this column are solely those of the writer, and do not necessarily reflect the views of the editorial staff of ICv2.com.