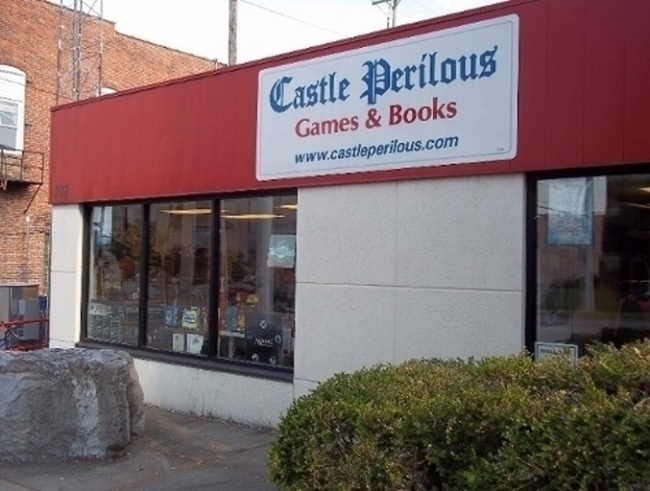 Rolling for Initiative is a weekly column by Scott Thorne, PhD, owner of Castle Perilous Games & Books in Carbondale, Illinois and instructor in marketing at Southeast Missouri State University. This week, Thorne offers further observations on trends at the Alliance Open House, and the new Wizards of the Coast Retail Improvement Grant program.
Following up on last week's column (see "Rolling for Initiative -- Three Reasons I Attend the Alliance Open House"), here were a few general trends I noticed among stores and publishers at last week's Alliance Open house:
Wizards of the Coast offers Retail Improvement Grants. Following the push over the past few several months to get WPN stores to advance to WPN Premium status (see "Rolling for Initiative--The Shape of Stores to Come?"), WOTC announced a program to assist stores in making that move: Retail Improvement Grants. Stores may apply for a grant from the company to assist the store in making a "sizable aesthetic upgrade in their space," with "ideal candidates WPN members who are actively pursuing WPN Premium and could use a little boost to get the across the finish line." WOTC will take applications from stores looking to upgrade either play or retail space, or both. Projects can range from painting a mural on a wall to upgrading to higher quality tables and chairs or, from what I understand, almost anything else. If WOTC approves the project, the grant will fund half the cost. Since one of WOTC's sessions at the Alliance Open House focused on the benefits to stores of upgrading to WPN Premium, it is nice to see WOTC offering help to do so.
Other Revenue Streams. I am not talking new product lines here but rather stores looking for different methods by which they can enhance revenue by other methods than selling products. The board game café/coffee shop model is drawing lots of interest, but it also requires quite a bit of investment (and dealing with the local health department to open one). After discussing her board game rental program during one presentation, Lynn Potyen of The Gameboard LLC says she received nearly an inch high stack of business cards from retailers interested in more information regarding purchasing the program from her. A well-run board game rental program can generate revenue several times the cost of a single game. A number of stores have also adopted a pay-to-roleplay program with participants paying for a seat in a RPG game offering an upscale experience. One store runs two sessions on a Saturday with six spots in each game, charging players $15 each for a seat at the table. Other stores with successful pay-to-play programs further monetize the sessions by stocking gumball style machines with plastic capsules containing in-game bonuses such as a +1 to hit, a potion of healing, or a certificate giving the player a rare pet. Sometimes these machines clear $50 to $200 per day with huge profit margins.
Kids Games. By kids games, I am talking games targeted at players as young as age two. In the past, this segment of the market has been dominated by Haba and Ravensburger, but in the past couple of years, we have seen "My First" versions of assorted popular board games appear on the market such as My First Scythe, My First Castle Panic, and Catan Junior (which released years ago). A t the Open House, for the first time that I remember, Haba demonstrated their games while Kronos and Amigo Games both showed off lines of games targeted toward the younger players in the family. Iello also took the opportunity during the game demo nights to show off the company's new Loki line of games, also targeted at younger players.
There were a couple more themes that struck my attention, and I will get to them next week. As always, you can reach me at castleperilousgames@gmail.com or through the ICv2 comments section.
The opinions expressed in this column are solely those of the writer, and do not necessarily reflect the views of the editorial staff of ICv2.com.