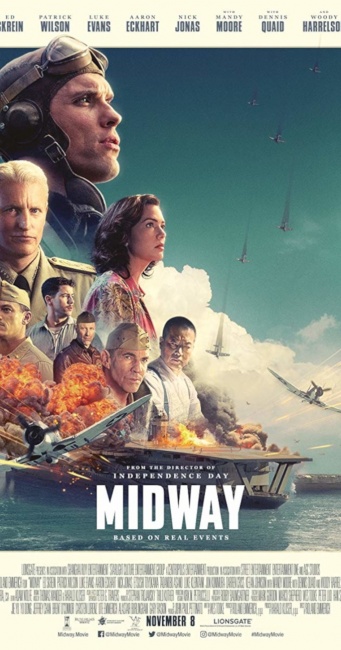 With four new films occupying the top four spots on the weekend box office chart, one might think that this Veterans' Day weekend was a big win for Hollywood. One would be wrong—all four films debuted tepidly and the total of the top 10 box office films, which failed to top $100 million, was down 35% from the same weekend a year ago when The Grinch stole the box office crown with $67.5 million.
This week's top film with an estimated $17.5 million is Roland Emmerich's old school World War II epic
Midway
, which, despite a lack of major stars, cost over $100 million to produce. Lionsgate, which is distributing the film, will not lose money since
Midway
was financed independently, largely by Chinese investors—and
Midway
may make up for disappointing domestic debut overseas—Chinese audiences evidently enjoy seeing the Japanese defeated in World War II (the 2016 film
Hacksaw Ridge
earned $62 million in China).
Midway
, like
Hacksaw Ridge
, which opened even lower with $15.9 million,
Midway
has the potential to hang around in theaters. It scored a sold "A" CinemaScore from opening weekend audiences, which skewed male (60%) and older, with 87% of the crowd over 25
. Midway
should do well on Veterans' Day (Monday), and earn a decent multiplier if it catches on in the South and Midwest.
It's a good thing for Warner Bros. that
The Joker
and
It Chapter 2
have done well since the heavily-hyped Stephen King adaptation,
Dr. Sleep
was met at the box office by a collective yawn.
Dr. Sleep
is a sequel to King and Stanley Kubrick's
The Shining
, but 39 years is a long time to wait for the story to continue, and the mass audience might not be aware that King disliked Kubrick's film and how that influenced this version, or care about the adventures of a grown-up Danny Torrance, or desire to sit through a 151-minute R-rated sequel to Kubrick's moody, 144-minute horror film.
The good news for Warner Bros. is that
Dr. Sleep
cost just over $50 million to produce, and opening weekend audiences, which skewed male (57%) and older with 74% over 25, gave the film a "B+," which is a very good grade for a horror film. Overseas sales could help as well, though
Dr. Sleep
earned just $13.1 million from 68 territories, which leaves only a few more major markets to exploit.
Dr. Sleep's
drowsy debut might have been considerably better if Warner Bros. had not waited until after Halloween to release the film.
It Chapter 2
had largely run its course well before Halloween, though Warner Bros. must have thought it would have the staying power of its predecessor when setting up the 2019 schedule.
Weekend Box Office (Studio Estimates): November 8-10, 2019

Film

Weekend Gross

Screens

Avg./Screen

Total Gross

Wk#

1

Midway

$17,500,000

3,242

$5,398

$17,500,000

1

2

Doctor Sleep

$14,100,000

3,855

$3,658

$14,100,000

1

3

Playing with Fire

$12,800,000

3,125

$4,096

$12,800,000

1

4

Last Christmas

$11,600,000

3,448

$3,364

$11,600,000

1

5

Terminator: Dark Fate

$10,800,000

4,086

$2,643

$48,457,130

2

6

Joker

$9,200,000

2,806

$3,279

$313,491,507

6

7

Maleficent: Mistress of Evil

$8,002,000

3,201

$2,500

$97,301,901

4

8

Harriet

$7,230,000

2,186

$3,307

$23,463,140

2

9

Zombieland: Double Tap

$4,315,000

2,427

$1,778

$66,655,483

4

10

The Addams Family

$4,200,000

2,674

$1,571

$91,467,705

5
The family comedy Playing With Fire was a surprising third place finisher, earning $12.8 million. Critics hated this saga of hardened firefighters, who face the severe challenge of babysitting a group of unruly kids, giving it just a 24% positive rating on review aggregator Rotten Tomatoes. But opening weekend audiences, with families making up 61% of the crowd, gave the film a solid "B+" CinemaScore.

Fourth place went to Paul Feig's romcom Last Christmas, which was written by Emma Thompson. Despite middling reviews (49% positive on Rotten Tomatoes), a disappointing debut of just $11.6 million, and a weak "B-" CinemaScore from audiences that skewed heavily female (65%) and older (65% over 25), the seasonally-themed Last Christmas still has a chance over the next few weeks if it can capture some of the holiday spirit.

The fifth spot went to last week's "winner," Terminator: Dark Fate, which slipped 65% in its second frame, and effectively sealing its fate in the domestic market. With just $48.4 million domestic, and about $150 million overseas, this expensive tentpole is on track to lose over $100 million, and perhaps seal the fate of the once powerful science fiction/action franchise.

After five weeks in the top five, Todd Phillips' The Joker slipped to #6 as it earned $9.2 million to bring its domestic total to $313.5 million. Even without a release in China, The Joker has earned $671.2 million overseas for a global total of $984.7 million. By this time next week, The Joker should be the fourth DC-based film to earn over a billion dollars, joining Aquaman ($1.14 billion), The Dark Knight Rises ($1.08 billion), and The Dark Knight ($1.003 billion).

Other films in the bottom half of the top ten include Disney's live-action fairy tale sequel, Maleficent: Mistress of Evil, which has rebounded from a disastrous debut to earn nearly $100 million here in North America and a global total of $430 million, a performance that means that the Mouse House won't lose a ton on Mistress of Evil.

The Harriet Tubman biopic, Harriet, posted a solid second weekend, adding $7.2 million to bring its domestic total to $23.5 million, while the horror comedy Zombieland: Double Tap and the animated Addams Family continued to perform like the modest successes they are.

Just outside the top ten Taika Waititi's JoJo Rabbit earned almost $4 million from just 802 theaters as the Oscar contender gradually expands its theater count.

Be sure to check back here next week to see what happens when three new films debut, including the heavily advertised adult racing drama, Ford vs. Ferrari (3,500 theaters), a remake of the pulchritudinous 1980s TV series Charlie's Angels (3,300 venues), and the adult skewing Helen Mirren/Ian McKellen thriller The Good Liar.