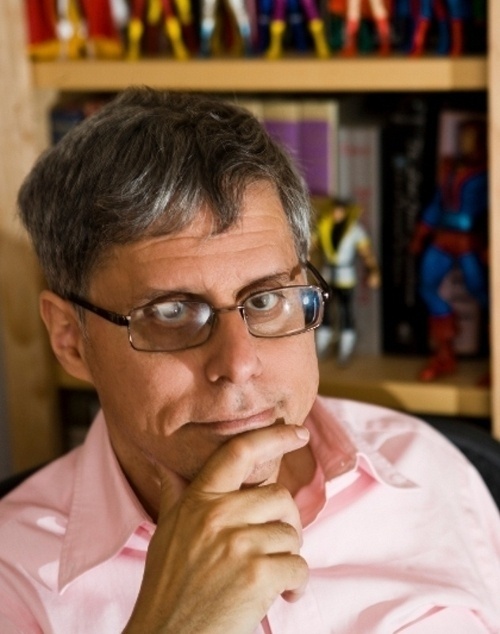 Paul Levitz entered comics as a writer, rose to become Publisher of DC Comics, and is now exploring new territory as a writer with creator-owned graphic novels including the upcoming Unfinished Business from Dark Horse (see "Exclusive: Dark Horse to Publish Original Graphic Novel by Paul Levitz and Simon Fraser"). In this column, he looks at how we got to 2019, when kids graphic novels became the biggest thing in comics, and how to ride the wave.
For much of the history of American comics, kids were our primary readership. As the newsstand distribution system for periodical comics was falling apart in the late 70s and early 80s, we lost touch with them. Comic shops weren't a natural retail point for youngsters, especially in the time when they were few in number and inevitably in inconvenient locations (in the early 80s well under 1000 brick and mortar—not that we used that term—comic shops existed in North America). One by one, the publishers who had prospered selling to that audience dropped: Harvey, Charlton and even Gold Key, the industry leader for over a decade with its Disney licenses and mighty Western Publishing distribution system.
DC and Marvel made the transition to an older audience fairly smoothly, consciously trading for a smaller but more passionate customer base that would support higher prices and better quality product. But we worried where our next generation of readers would come from, as historically we found our readers from the people who were introduced to comics as they first learned to read, and aged up into our material. This was a significant topic of discussion in our offices for years, and we tried a number of children's book experiments as a way of introducing the characters to kids.
Ultimately, we found that we could convert new readers at high school and college age with comics like our Vertigo line, and after 1989, that successful adult movies or tv shows of comic characters would provide a powerful introduction, even if conversion to comics purchasers still had its challenges. But reaching younger was still tempting.
Various attempts were made: licensed titles (Marvel did fairly well with their
Barbie
tie-ins for a while), tie-ins to our animated programs (but without enough research to tell us whether the readers of our
Adventures
titles were young kids or simply our regular adult readers enjoying a different approach). As the graphic novel format evolved, an occasional attempt was made to repackage material for this audience, and from the beginning of the 21st Century, individual creators began to devote themselves to kids. Jeff Smith's work on
Bone
, which he and Vijaya Ayer doggedly published, was an important step, both for its crossover audience (lots of adult love, lots of "Here, kid, try this…" moments) and for its groundbreaking license to Scholastic.
And in this past decade, Scholastic's success both with its own Graphix line and distributing occasional titles from other publishers has been enviable enough to bring several other traditional book publishers into the mix, and to persuade many bookstores to add separate children's graphic novel sections. More and more comics properties are also being translated into kid-friendly formats like chapter books, making the creation of crossover interest easier.
But 2019 was an obvious inflection point. Raina Telgemeier's steadily growing status as our most commercial comics creators was finally challenged by a second voice as Dav Pilkey added
Dog Man
to his credits. And the continued power of near-comics books like the
Wimpy Kid
series helps convince the most skeptical that kids like cartoons and comics, and that we're entering an era of visual storytelling.
So as we settle in for a new year, it's a good time to take note of the new generation of comics customers that have started to show up in prodigious numbers. By any reasonable back of the envelope calculation, there are now more young kids reading comics than in a generation… and more than the core customer base of the comic shops across the country. They don't represent an equally large market, of course; young kids' allowances or ability to squeeze money from their parents doesn't equal the major commitments our hobbyists make. But they're fresh money, and a chance to build a strong new generation of customers. Or to lose out on one, if you don't.
In that spirit, then, a few brief suggestions for retailers, some of which I've made before:
While Scholastic doesn't produce posters suitable for window display to support its two super-star authors, nothing's stopping a comic shop from doing their own. With the gigantic audiences Raina Telgemeier and Dav Pilkey have attracted, why not put them front and center with language indicating you're their headquarters?

Contact the local elementary school or middle school PTA and offer to do a 'graphic novel day' at the school, bringing age appropriate books and kicking back a decent percentage of the sales to the PTA. Make up a simple flyer that can be distributed to the students so they can take it home to their parents to get extra pocket money for the occasion. Why should the Scholastic Book Fairs have all the fun? (If the PTA can't get school permission to run it on premises, do it at your store and advertise by handing out flyers as school lets out the week before.)

For suburban stores, a variation on this theme is to work with the local soccer league, and do the event on the field or in the parking lot by it.

Print out an ad for your store on Avery label stock and stick it on the inside cover of copies of the most popular kids' graphic novels. Then go around to doctors and dentists' offices and leave copies in the waiting room. Barber shops are natural places for this too (I read my first Legion comic in a barber shop, long ago.) You can even put a "secret" promo code word in the ad, entitling the reader to a discount on their next purchase at the store.

Have a 'bring a kid to comics' day, modeled on Free Comics Day, but age specific. Either over-order suitable titles made available for FCBD, or give away all the age-appropriate stock that's accumulated unsold. Or make it 'buy one regular title, get one kids' title free' or a similar deal.

And if you haven't made a comfortable kids' corner in your store, complete with miniature bean bag chairs and like, think about it. The goal is to make your store as popular a visiting place as the local toy store was back in my generation.
None of this is revolutionary, and many of the best comic shops in suitable areas (and of course not every area is) are probably doing this and more. But if you're not cashing in on this opportunity to build for your future, maybe now's the time?

The opinions expressed in this column are solely those of the writer, and do not necessarily reflect the views of the editorial staff of ICv2.com.