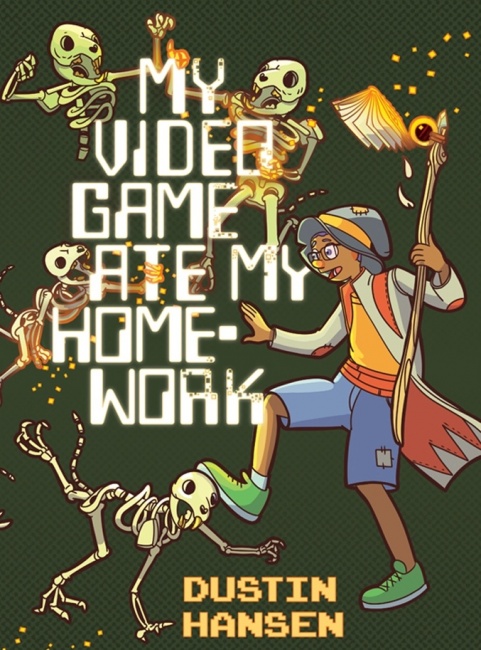 Confessions of a Comic Book Guy is a weekly column by Steve Bennett of Super-Fly Comics and Games in Yellow Springs, Ohio. This week, Bennett expands upon his views regarding the YA Graphic Novel boom.
A couple of weeks ago I once again wrote about young adult graphics novels confessing that despite my obvious interest, thanks to the current ongoing YAGN boom, I couldn't seem to keep up with all of the titles coming out. (see "Confessions Of A Comic Book Guy -- Where The Action Is"). I was at least halfway convinced I was keeping up with all of DC's YA titles until I read Utah father, son create a graphic novel for DC featuring hero with dyslexia and learned that I had somehow hadn't heard about My Video Game Ate My Homework.
Created by Dustin Hansen, author of the Microsaurs illustrated chapter book series, who has teamed with his son Davis to create a graphic novel about a 13 year-old, Dewey Jenkins, who "... has one last chance to save his grade in science and avoid summer school by putting together an incredible science project. But when a VR gaming portal sucks up his project, he has to tackle his dyslexia to try to get it back." It's set for a May release.
My Video Game Ate My Homework is exactly the sort of project I really should have already been aware of, because, for starters like me, Davis Hansen has both ADHD and dyslexia. Because that "can make reading and book learning difficult " the graphic novel is their "effort to reach out to students and kids who have a hard time learning" and they've "designed the book with people with learning disabilities in mind". Dustin "tested the book on himself and with elementary school children with dyslexia to make sure he was meeting the needs of children with reading disabilities."
This makes My Video Game Ate My Homework a commendable project well worth supporting, but it also manages to hit me squarely in my "something I've never seen before" button. As you can see from the preview pages posted online, it looks absolutely unlike any of DC's other young adult graphic novels. Dustin says "DC was really accommodating' and allowed experimentation with colors" while Davis explained that if "you flip through the pages, you can see the overall tone of the book shift as the story changes." And along with a "lower contrast with the words on the page," it features "more linear sightlines, and even emojis rather than words for one character."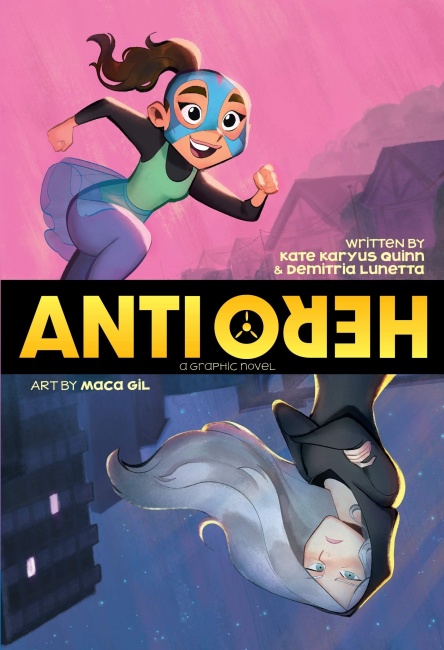 And while I have been enjoying DC's titles featuring younger versions of their characters (
Wonder
Woman: Warbringer
,
Batman: Nightwalker
,
Shadow of the Batgir
l,
Green Lantern Legacy
,
Zatanna and The House of Secrets
, etc.), I have to admit I'm more interested in the ones that feature original ones. Along with
My Video Game Ate My Homework
there's
Primer
, written by Jennifer Muro and Thomas Krajewski and drawn and colored by Gretel Lusky about Ashley Rayburn who comes across "a set of body paints that, when applied to the wearer, grant them a wide range of special powers." And
Anti/Hero
, written by Kate Karyus Quinn and Demitria Lunetta with art by Maca Gil, features a body-swapping scenario between two 13-year-old girls: one "secretly powerful" and the other super-smart.
Given the number of times I've written about Cartoon Network's Steven Universe over the years I would be remiss if I didn't mention that 'Steven Universe' Sets Final 10 Episodes on Cartoon Network. For those who weren't paying close attention, the series itself actually ended in 2019. What's ending on March 27 with a four-part finale is the limited epilogue series currently running on Cartoon Network, Steven Universe Future. Series creator Rebecca Sugar has " hinted in a statement that she is not done exploring the world of the show". And since she's previously written and drawn her own comics, a lot of Steven Universe fans (like me) are hopeful this means she'll be involved in the Steven Universe comics published by Kaboom! Studios.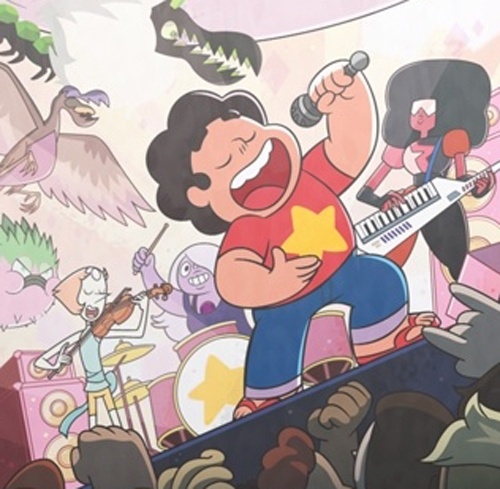 While there have been a lot of continuations and revivals, most TV series, especially animated ones, rarely get the opportunity to explore what happens after its main characters have achieved all their objectives. Set after a two-year time jump,
SFU
features a now 16-year-old Steven who has (as Wikipedia so succinctly puts it) "persuaded the Diamonds, the rulers of the intergalactic Gem empire, to cease their abusive, imperialist ways" and healed " the monstrous corrupted Gems that had been menacing the planet Earth."
Steven Universe Future answers the mostly unanswered question of what a hero does after they've saved the universe and there's no other existential threat immediately on the horizon. In Steven's case, he mostly flails about searching for some kind of purpose while throwing himself into busy work and desperately trying to avoid dealing with anger issues. Like any good 'boy hero', Steven has repeatedly found himself in serious mortal peril, but unlike Jonny Quest or Ben10, those 'adventures' have left some very real psychological scars.
The poor kid is basically on the verge of a mental breakdown and I, along with a lot of other SU fans (search "Steven Universe Needs Therapy" on the Internet), are hoping that before the series ends Steven will receive the kind of therapy he so desperately needs and deserves. Though, given it is a fantasy, the series probably won't end on a scene where he begins the long, slow process of confronting his feelings by talking to a trained psychiatric professional. Which would be a shame given that there's A Growing Mental Health Crisis Among America's Children and Teens.
This sort of thing has happened in TV animation before. I'm thinking of "Helga on the Couch" a 1999 episode of the Nickelodeon cartoon Hey Arnold! In the series, the frequently violent behavior of regular character Helga Pataki which had always been played for laughs is suddenly taken seriously, and she's sent to see the school's child psychologist. While still quite funny, it depicts therapy in a realistic, non-threatening way, and treats the psychologist, Miss Bliss, respectfully as she tries to help Helga work through her feelings.
Unfortunately, this was decades ago, and as far as I know, no one has ever tried to do anything similar. Being half-alien, it's probably more likely it will turn out Steven's recent problems are the result of some sort of fluctuation in his ever-evolving powers, and Steven Universe Future will end with a convenient last-minute extraterrestrial Deus ex machina returning him to normal. But he's also half-human, so I hope someone at least gives therapy a chance first.
The opinions expressed in this column are solely those of the writer, and do not necessarily reflect the views of the editorial staff of ICv2.com.