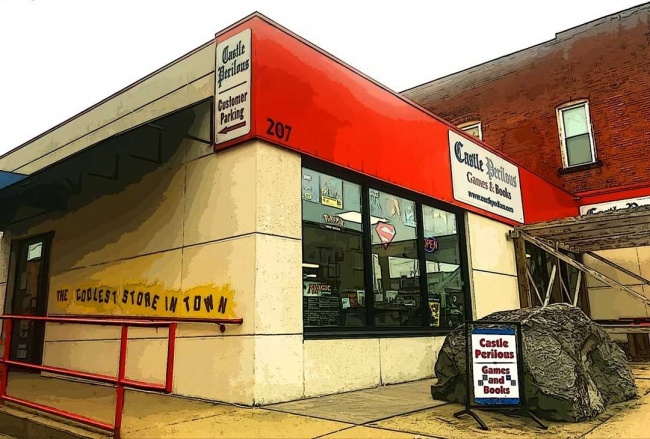 Rolling for Initiative is a weekly column by Scott Thorne, PhD, owner of Castle Perilous Games & Books in Carbondale, Illinois and instructor in marketing at Southeast Missouri State University. This week, Thorne takes a look at what Holiday Season 2020 has in store for retailers and their customer bases.
Well we made it through another Halloween and, as I expected we sold very little in the way of Halloween-related games or comics, except for Ouija boards (see "Rolling For Initiative -- It's Beginning to Look a Lot Like Halloween (and Christmas)"). We stock Ouija boards year round and always make sure to bring in a few extra for Halloween week as there are always a few groups wanting to sit around the board on Halloween night and scare themselves silly. Every year we put up a display of horror-themed comics and games, and every year the store manager thinks this is the year that people will buy them. Thus far, every year has proven him wrong, but there is always next year though.
Online sales have blown up over the past few months, with online sales being one of the only ways independent book and game stores are still in business (well, that and assorted loans and grants). What is really sad is that many stores reported 2020 started out as their best year ever. I know we expected at least a 10% increase over 2019 (not going to make that now). When things get back to normal, that won't change. According to this report by Salesforce.com, more than half of consumers expect to do more of their purchasing online than they did pre-epidemic with a lot of them, thanks to an October Prime Day, having already started their holiday shopping.
Incidentally, speaking of online sales, "trialability" is one of the factors influencing consumers to adopt a new product or behavior. If consumers get, or are forced, to try a new behavior and find that it works for them, the likelihood of them adopting that behavior permanently increases. There are more factors influencing consumer adoption and I will get back to them in next week's column. However, what this means for the online game retailer is more consumers will find themselves comfortable using the Internet to make purchases and looking for places on them web from which to buy.
Meanwhile, brick and mortar stores have lost one of the major factors differentiating them from their online brethren, the ability to offer in-person events. As noted in the article mentioned earlier, independent bookstores throve in the era of Amazon due to a continuous slate of speakers and events designed to bring customers in to listen and participate and walk out with a sack full of books. Similarly, a significant number of B&M game stores relied upon in-store miniatures and TCG play to drive sales of miniatures and TCGs. With organized play on hold likely until 2021 and Zoom games being poor gruel for the actual competitiveness of online play, brick and mortar stores are going to have to rely on other factors in order to in customers.
I'm betting that one factor will be the immediate availability of product. Due to the massive amount of products hitting the USPS, UPS, and FedEx, shipping times have lengthened markedly (One package we shipped on Sept 29 via media mail took just about a month to get to Mississippi). Shipping cutoff for holiday receipt will likely occur much earlier than in past years, meaning customer will need to turn to the FLGS for holiday purchases earlier than in past years. Here is hoping, for the sake of many stores, that I'm right.
The opinions expressed in this column are solely those of the writer, and do not necessarily reflect the views of the editorial staff of ICv2.com.