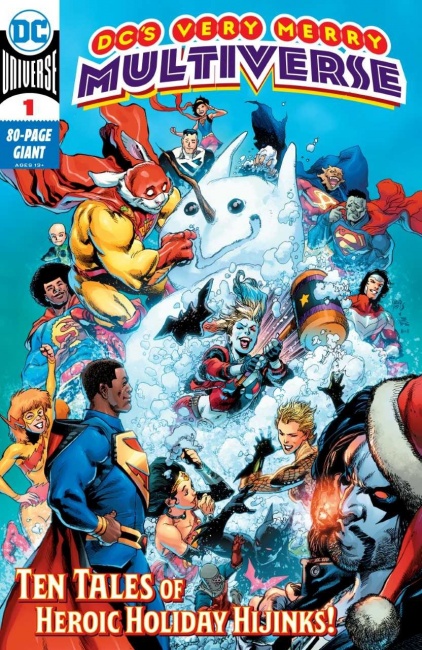 Confessions of a Comic Book Guy is a weekly column by Steve Bennett of Super-Fly Comics and Games in Yellow Springs, Ohio. This week, Bennett takes a look at the Christmas spirit contained in DC's Very Merry Multiverse and also discusses Naomi's development deal with the The CW.
I try hard not to be overly sentimental about the Holidays, but I have to confess that I love an old-fashioned comic book Christmas, "just like the ones I used to know", where the superheroes smiled on the covers with sacks of toys slung over their shoulders and were featured in stories where they showed might've helped an ex-con trying to go straight reunite with his estranged family. They just don't make 'em like that anymore, and
DC's Very Merry Multiverse
#1 is very much ample evidence of that.
Hardcore fans and collectors might want to buy the 80-Page Giant
DC's Very Merry Multiverse
#1 for the collectability factor of the story "To Stop The Star-Conqueress" which features the first appearance of the non-binary Kid Quick of Earth-11, who's set to become The Flash in the pages of January's
Future State: Justice League.
Though, with an MSRP of $8.95, I imagine it's going to be fairly hard to flip this comic for a quick profit. It doesn't bother me if people try though. What does bother me is the cover claims the title contains "Ten Tales Of Heroic Holiday Hijinks" and there's zero cheer to be had here. Casual readers will most likely be unimpressed by contents ranging from ok and average to ugly and awful.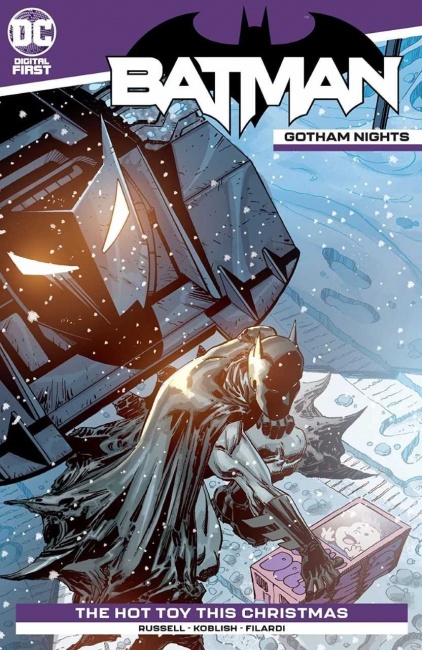 Happily, there's an "on the other hand", and on that hand is the Digital First title
Batman: Gotham Nights
#22. It has the story "The Hot Toy This Christmas" by writer Mark Russell and artist Scott Koblish which has The Toyman (apparently on loan from
Superman
) creating homicidal dolls. I'm not blind; there is some violence and Russell offers some sharp satire of rampant consumerism (and the intelligence of the average consumer), but there is cheer. Batman smiles (not the nicest of smiles, still...) and poor.
Alfred receives the Christmas gift of his dreams.
Being a big fan of Brian Bendis and him being on the verge of ending his run on
Superman
and
Action Comics
, the best in recent memory, naturally, I have to wonder "What's Next?" for him. I'm notoriously bad at guessing these sorts of things, but I do hold onto the hope that whatever his overall plans are, they'll include the return of his pop-up imprint Wonder Comics. I've enjoyed
Young Justice
,
Dial H for Hero
,
Amethyst,
and
Wonder Twins
a lot and would love to see more of each series, but what I'd really like to see is to have Bendis write another hundred issues (or more) of his co-creation with David F. Walker,
Naomi
.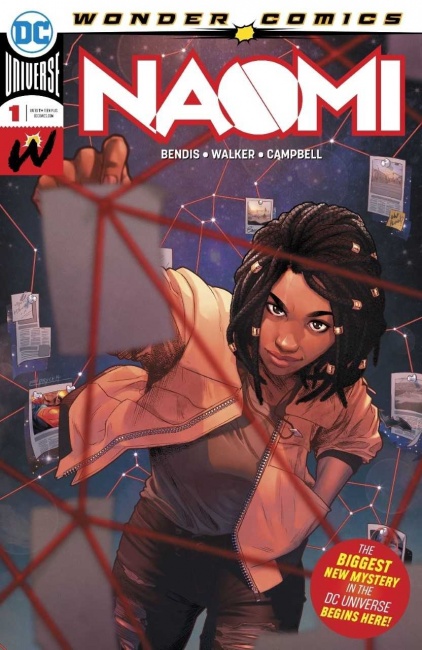 In January 2019, I was promoting
Naomi
simply on the basis of Bendis' reputation and its Miles Morales-like premise of a deeply grounded in reality young POC navigating their way through a much larger, weirder superheroic world. But it turned out to be even better than I expected as it expertly balanced the more ordinary aspects of Naomi's everyday life with her fantastic origins and obligatory superhero crossovers. It's a property that has the potential to be another
Ultimate Spider-Man.
Back then (see "
Confessions Of A Comic Book Guy -- A Visit With Wonder Comics
"), I wrote: "...while I don't think the value of
Naomi
#1 will immediately skyrocket, I also wouldn't be at all surprised if the character didn't start appearing in DC movies and TV series." So I wasn't exactly surprised when it was announced a couple of days ago that "prolific writer-producer-director"
(Selma
,
A Wrinkle In Time
)
Ava DuVernay was working on an adaptation of Naomi at The CW
.
A couple of weeks ago (see "
Confessions Of A Comic Book Guy -- Because No One Demanded It"
), I expressed surprise when The CW announced there was going to be a spinoff of their
Nancy Drew
series featuring a fellow Stratemeyer Syndicate character they went with
Tom Swift
instead of the obvious, and much more popular, choice,
The Hardy Boys
. Well, one reason was definitely that Hulu had a Hardy Boys series in the works, and for some reason, I had no idea it even existed until I read a (positive)
review
of it.
I haven't seen it because I don't have Hulu, but according to the review, there have been some substantial changes in this version of the Hardy Boys. Like all of the other recent revamps of classic characters, The Hardy Boys have been given "a darker, edgy reboot" with more than a hint of the supernatural; the McGuffin of the series is apparently an "artifact with apparently dangerous powers." But unlike
Nancy Drew
where the cast has aged up to adulthood, here, the leads have been de-aged; in the books, Frank was 18 and Joe 17; in this iteration, Frank is 16, and Joe... 12?
The opinions expressed in this column are solely those of the writer, and do not necessarily reflect the views of the editorial staff of ICv2.com.