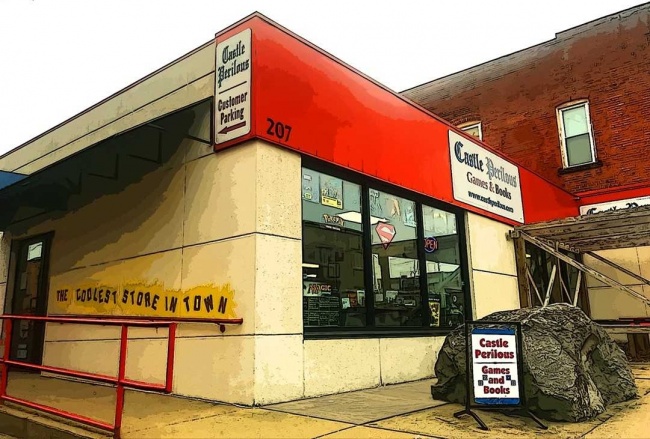 Rolling for Initiative is a weekly column by Scott Thorne, PhD, owner of Castle Perilous Games & Books in Carbondale, Illinois and instructor in marketing at Southeast Missouri State University. This week, Thorne analyzes how four different TCG companies approached recent prereleases in the COVID-19 era, and what could be improved from a retailer perspective.
The prereleases for Kaldheim and Blazing Vortex took place this past weekend, and there were a few interesting notes on how the two companies each approached of their prereleases. In fact, I saw a significant difference between the way WotC approached their pre-release event and the way every other TCG company in the industry handles their events. Let's start out with how WotC handled their Kaldheim release (see "Wizards of the Coast Releases Product Line Deets for 'Magic: The Gathering' 'Kaldheim'").
Wizards has sent out numerous emails over the past few months discussing Kaldheim, its prerelease, the cards in the set, associated products, and tips for running a better prerelease. We received access to digital materials to promote the set about a month or better ago. Also, we received an in-store poster that is so eye-catching we have customers wanting to buy it as soon as we hung it up, a box of promotional cards and packs to use as incentives to increase purchases, pre-built pre-release kits, and additional boxes of boosters to sell during the week before the actual launch.
Compare this to the promotion we saw for the release of the new Yu-Gi-Oh! set from Konami, Blazing Vortex (see "'Yu-Gi-Oh! TCG' Dives Into a 'Blazing Vortex' of 'Armed Dragons'"). After the initial solicitation to order the Premier Event kit and boxes of boosters for the Premier Event, the store received no more emails from Konami promoting the set, no links to digital promotional assets, no physical posters to put up in advance the store, and the promotional kit with the in-store display banner, promotional cards, and playmats for the event didn't arrive until two days before. We posted pictures of the playmat and cards to our social media account, but two days advance notice is very little time with which to work. This is something I've commented on a number of times over the years (see "Rolling for Initiative--Of Pre-releases and Paints").
Meanwhile The Pokemon Company has a special set, Shining Fates releasing on February 19 (see " Pokemon Company International Reveals 'Shining Fates'"). This is a set that we have only heard about through our distributors, with no communication from The Pokemon Company about the set. The company solicited the prerelease for the next regular expansion set Sword and Shield Battle Styles last fall but since then, nothing. Again, as with Yu-Gi-Oh!, emailing information to stores in advance with digital marketing materials and in-store promotional materials would really help stores in promoting their prereleases.
Force of Will, the last of the companies for which we host prereleases, does not even send out email notifications for their new releases. We have carried the game for several years now, and each prerelease works the same. Our distributor contacts us, we put an order in for a prerelease kit, it arrives, we host it for the same regular group of players, and repeat with the next one. No contact from the company, no notice of digital assets, no advance receipt of physical promotional materials, no attempt by the company to generate excitement or growth for the game. The Mage Stone War-Zero releases this month and FoW has sent out zero emails or any other form of communication about it.
So, kudos to WotC for their prerelease marketing and I wish a lot more TCG companies would follow their lead.
The opinions expressed in this column are solely those of the writer, and do not necessarily reflect the views of the editorial staff of ICv2.com.