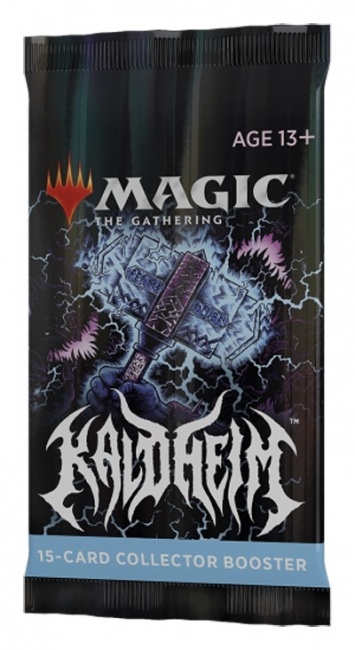 Wizards of the Coast announced product line details for
Kaldheim,
a new
Magic: The Gathering set,
slated to release into retail stores on February 5, 2021.
The product line offering for this Norse mythology-inspired Magic expansion lists as follows:
Kaldheim Collector Booster Packs and Displays. The Collector Boosters for this set are by far the most interesting offering of the Kaldheim product line, primarily due to their unique packaging. The packaging mirrors the heavy metal art-style from the recent Secret Lair: Secretversary Superdrop (see "Wizards of the Coast Announces a 'Magic: The Gathering' 'Secretversary' Superdrop"), which may be an indicator of what this round of showcase cards will look like. Each of these premium packs comes with 15 Magic cards and a foil token, and come 12 boosters to a display.
Kaldheim Draft Booster Packs and Displays. These booster packs come with 15 cards from the Kaldheim set, are optimized for the draft format, and are packaged in displays of 36 packs.
Kaldheim Set Booster Packs and Displays. WotC first dropped this type of booster pack in the Zendikar Rising set (see "'Magic: The Gathering' 'Zendikar Rising' Product Line Revealed!"). Thus far, there are few details on the contents of the Kaldheim version, and as of the publication of this article, the packs are listed as containing 12 Magic cards, an art card, and a token, ad, or special card from Magic's history. Each booster display comes with 30 booster packs, and 6 displays come in a case.
Kaldheim Theme Booster Packs and Displays.
These packs contain 35
Kaldheim
cards that are all based on a specific theme. Each display comes with 12 themed packs, and 6 displays come to a case.
Kaldheim Bundle. This bundle comes with 10 Kaldheim Draft Boosters, a 20 foil land pack, a 20 regular land pack, an alt-art promo card, a storage box, and an oversized Spindown life counter. These bundles will ship in cases of 6.
Kaldheim Prerelease Pack. Prerelease Packs are made specifically for events that run between January 29 and February 4 (see " Wizards of the Coast Reveals New Retailer Release Information for 'Magic: The Gathering' 'Kaldheim'"). Packs come with 6 Kaldheim Draft Booster packs, a foil promo-stamped rare or mythic rare from Kaldheim, a Spindown life counter, and a MTG Arena code card (code card available only in certain regions).
For more information on Magic: The Gathering products, check out the calendar (see "'Magic: The Gathering' Release Calendar for 2020/2021").
Click on Gallery below for packaging images of the products!