Confessions of a Comic Book Guy is a weekly column by Steve Bennett of Super-Fly Comics and Games in Yellow Springs, Ohio. This week, Steve Bennett discusses some of the unwarranted hate floating around social media directed toward DC's I am Not Starfire GN as well as offers his thoughts on Centaurworld.
It won't be available at your shops until September 14th but as of yesterday, DC Universe Infinite subscribers can read Harley Quinn: The Animated Series – The Eat. Bang! Kill. Tour #1. Written by Tee Franklin (Bingo Love) and drawn by Max Sarin (Giant Days), it's achingly close to HQ: TAS and on its own merits, it's one of this year's best comics. You'll want to have plenty of copies of this one because it is going to sell.
Being a big fan, of Superman, Old-Time Radio, "social justice" (you know, equality, diversity, the sort of things Superman is supposed to stand for), and the artwork of Gurihiru, I've mentioned Gene Luen Yang's Superman Smashes the Klan (see "Confessions Of A Comic Book Guy -- Inching Back Towards Movie Theaters") as often as I can find a pretext. So, I would be remiss if I didn't mention that Yang just won three Eisner Awards (see "Eisner Awards 2021: Three Awards For Gene Luen Yang"); Best Publication for Kids and Best Adaptation from Another Medium.
Given the amount of prestige the property has brought the company, I just hope we see more projects like it. For example, DC should do a follow-up series; if they can do Superman '78, (see "Preview: 'Superman '78 #1 (Plus Covers For #2-4), why not do Superman "40? Superman Smashes the Klan is loosely based on the 1946 radio serial from "The Clan of the Fiery Cross", and there are other seminal Superman stories I'd love to see adapted to comics. And Warner Bros. should quickly greenlight an animated version. I can't think of a better way of getting an "it's unfortunately torn from today's headlines" story in front of the audience who needs to see it most, kids.
Last week (see "Confessions of a Comic Book Guy -- So Much In Hate"), I wrote about all of the hostility being directed to Kevin Smith's Masters Of The Universe: Revelation. Yet, somehow I neglected to mention the social media spigot from which so much of this loathing spewed forth, YouTube; an always-reliable source for unreasonable comic-related rage-fueled rants. And while the fans are no way near done kicking MOTU: R around, the last time I clicked on YouTube I was surprised to find they had a new target; I Am Not Starfire, the young adult graphic novel about Starfire's teenage daughter Mandy by Mariko Tamaki and illustrated by Yoshi Yoshitani (see "Preview: 'I Am Not Starfire' GN").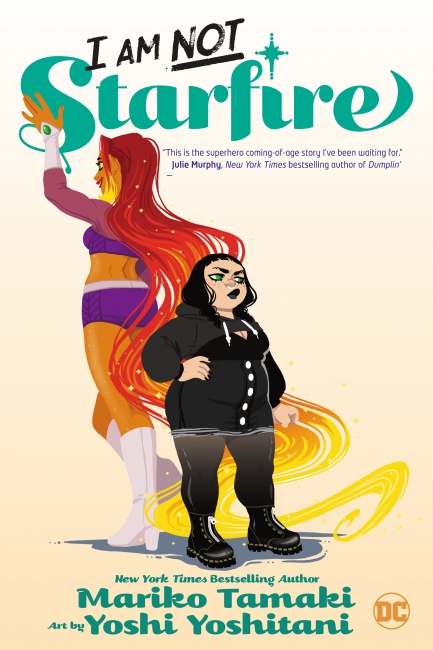 The clever little scamps came up with a metric ton of spoofs on its' title:
I Am Not Liked, I Am Not Popular, I Am Not Going To Save DC Comics, Obviously, Not Starfire, I Am Not Starfire Is A Disaster,
etc. Then, there were the direct attacks on its publisher:
DC Comics Is Trash, DC Comes Faces Instant Regret, The Most Woke Comic Has Ever Made,
DC Puts The "Why?" In YA, DC Comics Faces Instant Regret,
etc. And then, there are the playground taunts:
No Hotties Here!
Fat, Gay & Goth Superhero
and at the rock bottom,
What the #$%@ Is This?
(with an arrow pointing directly at an image of poor Mandy). The response has been so egregiously overwhelming that I'm happy to report one video is literally titled
Everyone's Overreacting to I Am Not Starfire
.
Having read I Am Not Starfire, which is a pretty standard young adult graphic novel, I'm really not sure what the fuss is about. From what I can glean from these videos a lot of it has to do with fans being unable to cope with either Yoshitani's non-decorative art style or the idea of "their Starfire" producing a child like Mandy. And, they're totally incapable of feeling anything like sympathy or empathy for any character who isn't standard comic book pretty.
And speaking of YouTube, entirely by accident I came across the first episode of Centaurworld, a fish-out-of-water action-adventure musical fantasy with elements of sci-fi series created by Megan Nicole Dong, a day before it was set to make its debut on Netflix. It's the story of a hardened warhorse named Horse from a Games of Thrones type epic fantasy who finds herself on a colorful Equestria-type world.
It's a lot goofier and more fabulous than My Little Pony. It is set on an entire world of pinks and pastels, and follows a found family of outrageous creatures singing Broadway-style show tunes down a literal rainbow road. But, as the TV Tropes site points out, there's a reason why everyone on Centaurworld acts "obnoxiously fun-loving and cartoony"; it's the result of barely repressed trauma from an off-screen conflict (nobody talks about the war). It's gotten 100% on Rotten Tomatoes so clearly it's not too peculiar for mass mainstream success, which says something about the world we live in. Because I have to confess, this is, without a doubt, the single most peculiar thing I've ever seen. And loved.

The opinions expressed in this column are solely those of the writer, and do not necessarily reflect the views of the editorial staff of ICv2.com.