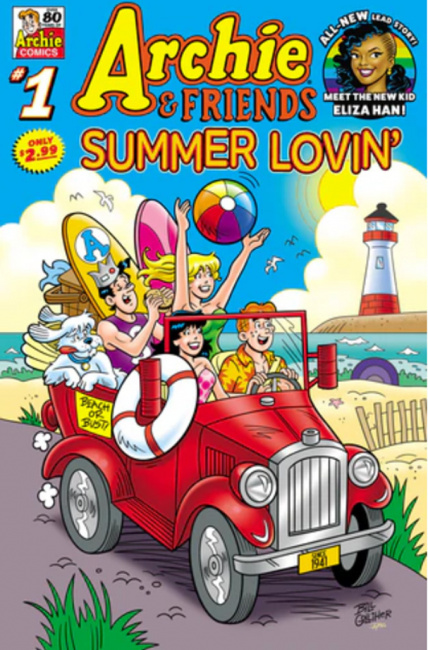 Confessions of a Comic Book Guy is a weekly column by Steve Bennett of Super-Fly Comics and Games in Yellow Springs, Ohio. This week, Bennett digs into Archie & Friends: Summer Lovin' #1, an upcoming Harley Quinn: The Animated Series one shot, and the Lightyear movie.
Back on June 8 (see "Bursting With Pride"), I wrote that I was looking forward to reading Archie & Friends: Summer Lovin' #1 because it featured the story "Carnival Love!'" by Tee Franklin and Dan Parent which introduced Riverdale's new resident, Franklin's bi-racial, plus-sized pansexual character Eliza Han. But unfortunately, even with its groundbreaking (for Archie Comics) gay romance between people of color and the suggestion that polyamory might just be the solution that the eternal Betty/Archie/Veronica love triangle has been looking for, it's a pretty conventional "Classic" Archie story.
Make no mistake, with her "Normalize Fat Bodies" t-shirt and partially shaved head, Eliza is admittedly a breath of fresh air. However, it's a shame most of what we know about her comes from a text page in this issue (she's African and Korean American, has ADHD, thyroid disease, Type-1 diabetes, and a brother with Down's Syndrome). And, the triangle between Eliza, Veronica's cousin, Harper Lodge, and Reggie Mantle never really develops mostly because the Reggie here is unrecognizably nice.
And, for the record, I immensely enjoyed the second story, "Windsurfing Woes!" by Tom DeFalco and Pat and Tim Kennedy. The Kennedy Bros. bring a lot of visual excitement to some fairly stale shenanigans as well as a wholesome sexy quality much in keeping with "Classic" Archie comics.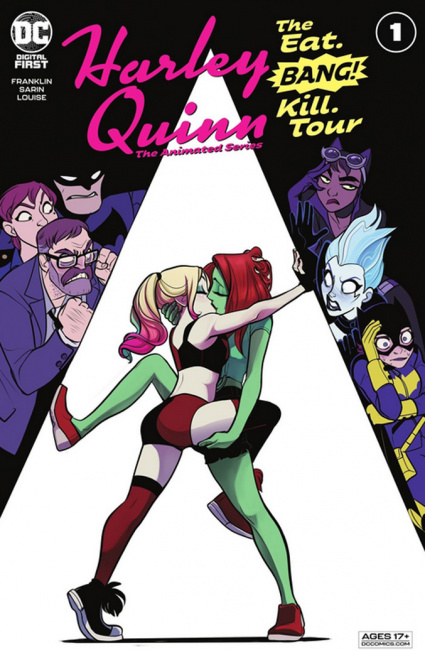 In that same column, I reaffirmed how the miniseries
Harley Quinn: The Eat, Bang, Kill Tour
by Tee Franklin and Max Sarin was my favorite comic of 2021. Well in September, DC is doing a sequel, a one-shot
Harley Quinn: The Animated Series: The Real Sidekicks Of New Gotham Special #1
. It is an 80-page prestige format comic that reunites Franklin and Sarin on a story where Harley and Ivy go on a double date with Vixen and her girlfriend Elle. There will also be stories by writers on HBO's
Harley Quinn: The Animated Series
(Alexis Quasarano, Jimmy Mosqueda, Conner Shin, and Jamiesen Borak) and artists ONeillJones, Erica Henderson, Logan Faerber, PJ Holden, among others. As for
Harley Quinn: The Animated Series
, it returns on July 28 for Season 3 on HBO Max.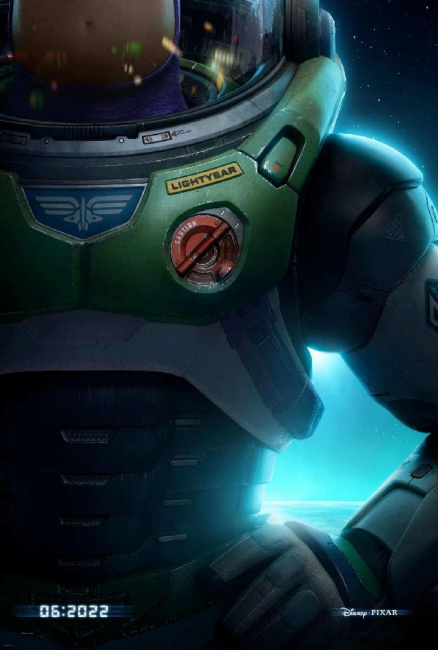 And finally, I'll close out Pride Month by mentioning the Disney/Pixar film,
Lightyear
, the one that had the seven-second kiss that got it banned in 14+ countries and had a select group of critics braying "Get Woke, Go Broke" because of its less than stellar performance at the box office. I'd wanted to write something about it, but seeing as how I've yet to see it, I don't have an informed opinion about it.
My lack of attendance is partially due to the fact that I'm still semi-sedentary (l haven't made it out to see a movie in a theater since the pandemic began; I'm hoping Thor: Love and Thunder will break that streak), but it's mostly because the reviews have been mediocre at best. However, I still want to see it when it becomes available for streaming on Disney+; I'll let you know what I think about it then.
The opinions expressed in this column are solely those of the writer, and do not necessarily reflect the views of the editorial staff of ICv2.com.