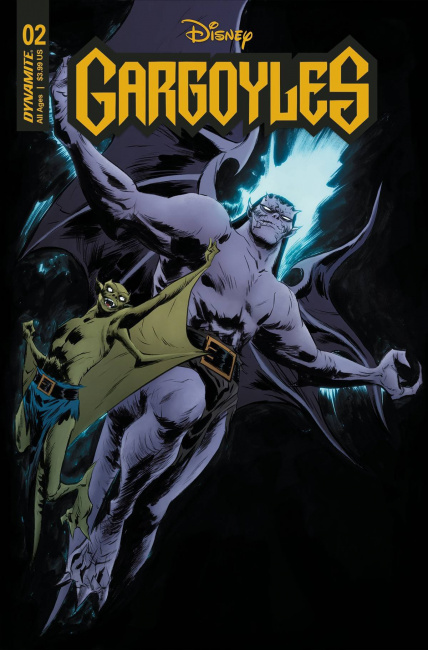 Confessions of a Comic Book Guy is a weekly column by Steve Bennett of Super-Fly Comics and Games in Yellow Springs, Ohio. This week, Bennett talks Disney Comics and their new titles, Gargoyles and Darkwing Duck published via Dynamite Entertainment.
I've already written about Disney Comics twice this year (see "
Could Disney Comics Make A Comeback?
" and also, "
Missing The Mouse"
); specifically about how much I wanted to see more Disney Comics being published in North America. Since then, two new high-profile Disney titles were announced; both with so much nostalgic appeal they should be strong sellers both in and outside the direct sales market. These two titles are
Gargoyles
(see "
'Gargoyles'
") and
Darkwing Duck
(see "
'Darkwing Duck'
").
Gargoyles by Greg Weisman, co-creator of the characters Goliath, Demona, Angela, Elisa, Brooklyn, Broadway, Lexington, and illustrator George Kambadais serves as the fourth season of the animated series. In an interview with Weisman conducted by Dynamite Entertainment's Adam Phillips, he said that "The storyline for the first big arc is called 'Here in Manhattan' and is something that I've had in my head to do going way back to the TV series." Here's the synopsis for the first issue:
"Modern New York City is full of attractions and distractions, and each member of the clan has begun to go their own way. But their bonds will be tested, when nefarious factions from all across the world attempt to steal that rarest, most precious of possessions…an unhatched Gargoyle egg!" So far we've seen the first eight pages of issue #1, as well as six covers and it looks just great. The first issue, which has a release date of December 7, has already sold 100,000 copies and is "Dynamite's highest-selling comic of 2022."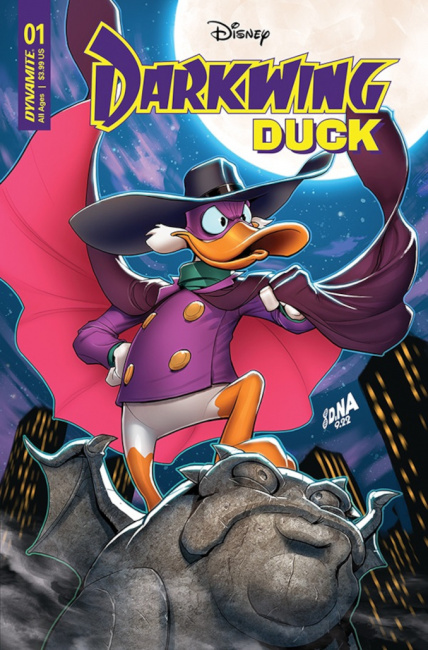 Darkwing Duck
#1 is shipping in January 2023. It was written by Amanda Deibert (
Netflix's He-Man and the Masters of the Universe
,
DC Super Hero Girls
) and drawn by Italian artist Carlo Cid Lauro, who is a member of Mirka Andolfo's Arancia Studio (
Mercy
,
Sweet Paprika
). #1 the villain Megavolt takes out the phones of everyone in St. Canard and editor Nate Cosby says "
Fans of the original TV series are in for a total treat because Amanda and Carlo are conjuring up a hilarious, thrill-filled adventure series that's directly connected with the classic feel of the show, but 100% accessible for new readers!"
In spite of their great success in publishing licensed titles, I never thought that Dynamite would be home to one Disney title, let alone two. I just hope we'll see more Disney titles published by them, like the classics comics Uncle Scrooge, Donald Duck, Mickey Mouse, and Walt Disney's Comics and Stories. I also wouldn't mind seeing comics based on more recent franchises, like Turning Red, Encanto and (especially) The Owl House.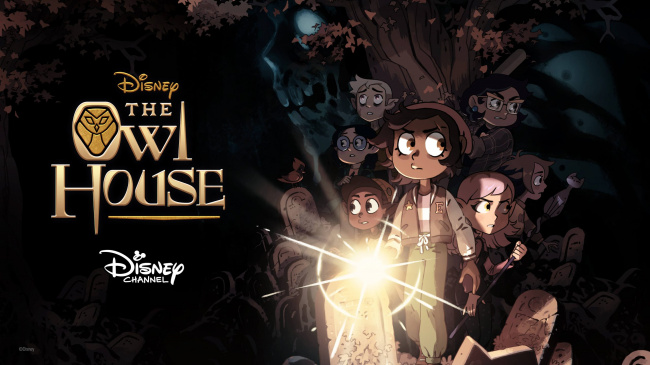 As I reported back in September (see "
In No Particular Order
") that its third and unfortunately final season was about to start. But the show's creator Dana Terrace hopes, at some point, to continue
The Owl House
universe through a comic spin-off. She wants "to write it, I want to draw it. I want to work with some old crew members and make it special." I just hope that someone at Dynamite is listening.
The opinions expressed in this column are solely those of the writer, and do not necessarily reflect the views of the editorial staff of ICv2.com.