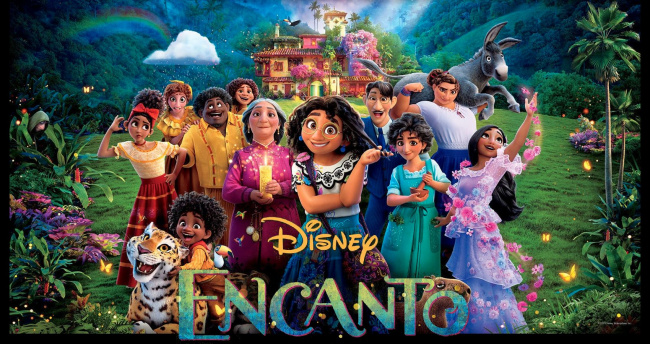 Confessions of a Comic Book Guy is a weekly column by Steve Bennett of Super-Fly Comics and Games in Yellow Springs, Ohio. This week, Bennett shares his thoughts on Disney's Encanto and the upcoming Moon Girl and Devil Dinosaur series.
Disney's
Encanto
, the animated feature about a magically gifted (essentially superpowered) family officially underperformed in theaters, bringing in $40 million over the Thanksgiving weekend. But, it became an enormous success when it started streaming, at no extra cost to all subscribers, on Disney+ on December 24, 2021. That's where I saw it, and then watched it again and again.
I loved the story and the characters and especially the songs, eight of which, including "Surface Pressure, "The Family Madrigal, "What Else Can I Do?," "Dos Oruguitas," "Waiting On A Miracle," and "All of You" are on the Billboard 100 Chart for the week of January 28 through February 3. "We Don't Talk About Bruno" is at #1, making it only the second Disney song to do that. The last time a song hit #1 happened 29 years ago with "A Whole New World" from
Aladdin
. "Let It Go" from
Frozen
only got as high as #5.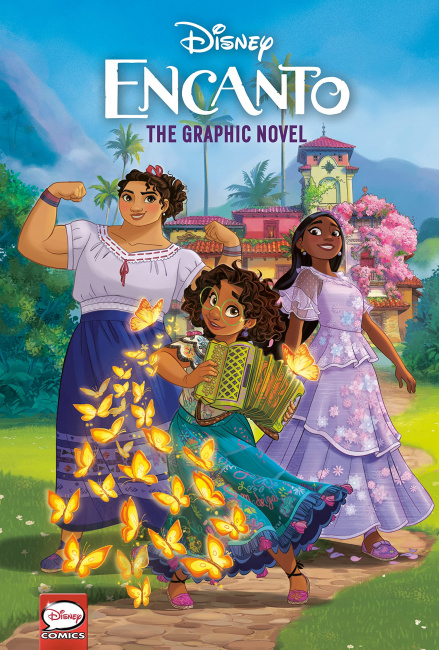 This is all swell for Disney, but what exactly does that have to do with the rest of us? I couldn't help but help wonder why there wasn't an
Encanto
graphic novel... until I discovered that there was. After a quick internet search, I discovered Amazon had a listing for
Disney Encanto: The Graphic Novel
a full-color hardcover that has a release date of March 8, 2022. Both it and a lot of the recent (
Disney Raya and the Last Dragon: The Graphic Novel
) and upcoming (
Disney/Pixar Lightyear: The Graphic Novel
,
Disney/Pixar Turning Red: The Graphic Novel)
Disney graphic novels that I found there were all "cleverly" attributed to an RH (Random House) Disney. I double-checked and found Diamond also had a listing for the title.
So, this was just yet another case of me missing a solicitation. However, I couldn't have been the only one who missed it, which would be a shame since quite literally sight unseen (unfortunately I couldn't find even one preview page of it anywhere online)
Disney Encanto: The Graphic Novel
shouldn't just be in your store. A book from this popular of a franchise really should be on display in your storefront window!
My missing it could also be seen as an indication of just how low a profile Disney Comics has in direct sales shops. This is understandable given that the last regular Disney Comics from IDW Publishing were published in 2018. Here's hoping that Disney soon decides that the North American market is valuable enough for them to partner with a U.S. publisher, like Marvel, to publish titles like
Uncle Scrooge, Donald Duck, Mickey Mouse
, and
Walt Disney's Comics and Stories
again.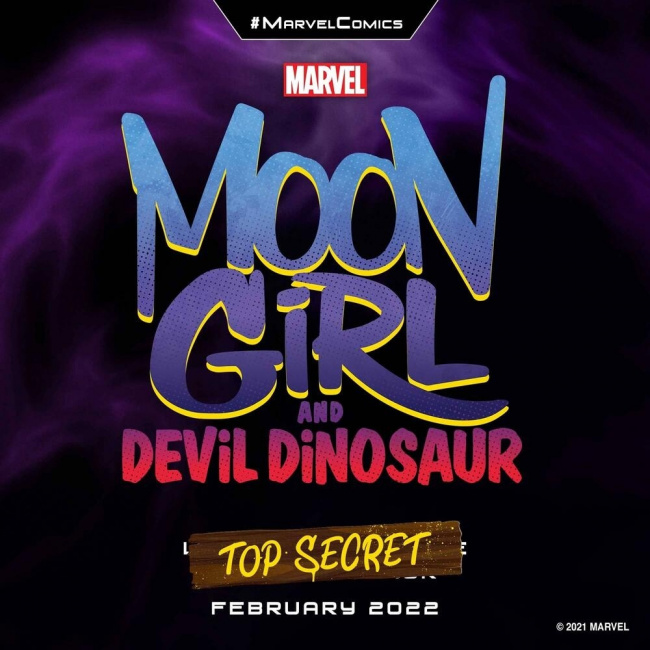 And while the subject is still Disney, Marvel, and animation, fans of Brandon Montclare, Amy Reeder, and artist Natacha Bustos
Moon Girl and Devil Dinosaur
comic (like me) have been looking forward to news about the upcoming animated series. Well,
Entertainment Weekly
recently published a '
first look
' at the series which premieres this summer on Disney Channel that includes character designs of the cast.
As previously reported last year (see "
Afrofuturism Now!
") in the show 9-year old Luna has been aged up to 13 and the cast includes her supportive parents and grandparents as well as Claire, her best friend. The most interesting about the piece is we get our first look at The Beyonder who's voiced by Laurence Fishburne who's an executive producer on the series. All of the characters have a highly cartoony asethetic, but here The Beyonder (who traditionally sports a 80s David Hasslehoff look) is like a funky cross between Him from
The Powerpuff Girls
and The Grinch from
The Grinch Who Stole Christmas
.
The opinions expressed in this column are solely those of the writer, and do not necessarily reflect the views of the editorial staff of ICv2.com.