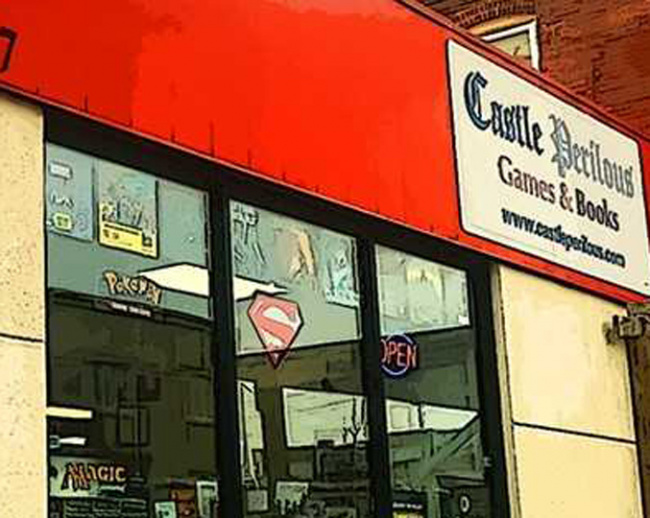 Rolling for Initiative is a weekly column by Scott Thorne, PhD, owner of Castle Perilous Games & Books in Carbondale, Illinois and instructor in marketing at Southeast Missouri State University. This week, Thorne follows up on Foam Brain Games and dice branding.
Halloween is over, and except for a set of
Zombies!,
sales of horror-themed games proved lackluster. Not sure why, but even sales of
Ouija
boards, a perennial steady seller for us at this time of the year, tanked with only a couple of sets selling rather than our normal half a dozen units. Conversely, the Archie Publications Halloween and horror books sold better than they have in the past. So, there is that to consider.
After mentioning Foam Brain Games products and their custom labeling program in last week's column (see "
Three Products That Should Help
"), I received an email from them indicating they had decided to modify the program by ending custom labeling save for completely customized products, and moving towards co-branding packages. Henceforth, instead of replacing the Foam Brain logo with the store logo, both will appear on the package (equal-sized logos on dice cubes) and if the photos are correct, with the store logo significantly larger on metal dice tins. To compensate for the change, Foam Brain will reduce the charge for printing store logos on the packaging.
In the email, Foam Brain explains that the reasoning for the change is the company's plans to spend about $150,000 on marketing the Foam Brain brand to consumers in 2023, planning to increase recognition of the Foam Brain brand. This marketing money will help add significant value to their brand, and help them stand out amongst the vast number of companies selling dice sets to stores (most of which they appear to buy in bulk from Chinese manufacturers). Generally, through dint of first mover advantage, customers come in asking about Chessex dice sets. However, they just as willingly buy the generic dice sets we purchase in bulk and repackage in plastic boxes similar to the ones used by Chessex.
Additionally, we do stock the aforementioned Chessex dice sets as well as Sirius Dice, Beadle & Grimm's, Q-Workshop, Ultra PRO, Crystal Caste and probably sets from a few manufacturers I do not remember. Except for Chessex and the Wizards of the Coast sets of
Dungeons and Dragons
-branded dice sets, such as the
Witchlight Carnival Dice & Miscellany
(see "
New Boxed Set
"), we almost never have customers coming in asking for dice sets from a particular manufacturer. They come in and just ask if we have dice. We point them to the dice display, which they "ooh" and "aaah" over, spending anywhere from five to 15 minutes picking out assorted sets of dice. Manufacturers never come into the conversation.
Although companies do brand themselves on a regular basis in the game industry, especially toward retailers, this is one of the few times I remember a company specifically stating they planned to make a major expenditure to build their brand in the eyes of the consumer. I look forward to seeing if their marketing spend drives more customers into stores looking for the Foam Brain brand.
Comments? Send them to castleperilousgames@gmail.com.
The opinions expressed in this column are solely those of the writer, and do not necessarily reflect the views of the editorial staff of ICv2.com.