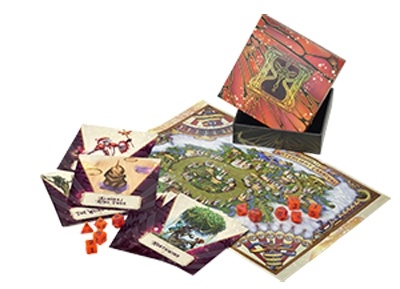 Wizards of the Coast will release
D&D
The Witchlight Carnival Dice & Miscellany,
dice and map boxed set, on September 21.

The Witchlight Carnival brings the magic of the Feywild from world to world as they travel. Players can now explore the carnival for themselves with a full-color foldout map and dice set. This set also contains double-sided cards with descriptions and illustrations of carnival's characters, creatures, and games of chance for quick reference.
The game box includes 11 dice (two d20s, one d12, two d10s, one d8, four d6s, and one d4), a 10.5" by 15.75" foldout map, a box that doubles as two dice trays, and 19 double-sided cards. This item is for use with the Dungeons & Dragons 5E Player's Handbook, Monster Manual, and Dungeon Master's Guide.
It will retail for $29.99.
This item complements The Wild Beyond the Witchlight: A Feywild Adventure, a new adventure book for Dungeons & Dragons (see "A Brand-New Faerie Adventure is Coming to 'Dungeons & Dragons'").