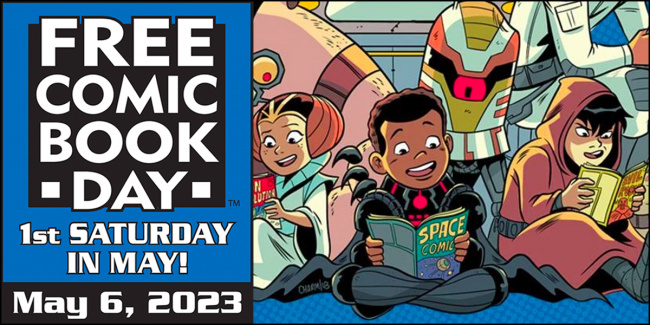 Confessions of a Comic Book Guy is a weekly column by Steve Bennett of Super-Fly Comics and Games in Yellow Springs, Ohio. This week, Bennett discusses all-ages options for the upcoming Free Comic Book Day on May 6, 2023 as well as retailer strategies for running the event and two books he is excited to see.
As you may already be aware, it's ICv2 Kids Comics and Graphic Novels Week again and Saturday, May 6 is Free Comic Book Day. So, I will be reviewing the All-Ages FCBD options, and this year, there are numerous All-Ages titles available, too many to cover in detail here, but here's a list for your reference:
Baby-Sitters Little Sister: Karen's Haircut, Spidey And His Amazing Friends #1, Smurfs 65th Anniversary FCBD Special, Sweet Valley Twins: Teacher's Pet, The Last Comics On Earth, Animal Crossing/ Kirby Manga Mania, Kodansha All Ages Gold Sampler, Mexikid, InvestiGators All Tide Up, Teenage Mutant Ninja Turtles, Clark & Lex / Fann Club: Batman Squad #1, Girl Taking Over: A Lois Lane Story Free Comic Book Day Special, The Nightmare Before Christmas: The Battle for Pumpkin King #1, Baby-Sitters Little Sister: Karen's Haircut, Ranger Academy Preview, Star Wars High Republic Adventures & Avatar Last Airbender, Madballs Vs Garbage Pail Kids #0, Crimbuster #1, and Runescape Untold Tales God Wars
.
It's been a couple of years since I've worked Free Comic Book Day at Super-Fly Comics & Games (most of you will likely already know this all this already), but as I recall, the biggest tasks working FCBD, other than crowd control were always:
#1 Keeping the FCBD table stocked,
#2 Carefully guiding the kids and their parents away from the Teen and Mature titles.
#3 Pointing kids and parents in the direction of the comics that are age appropriate that kids are most likely to like.

You can achieve #3 by both asking questions ("What are your kids interested in?) and listening to parental concerns. Most of these FCBD titles feature big brand name franchises that pretty much sell themselves to both boys and girls, as well as a lot of adults. Girls' interests vary and you should never assume that they'll only want what is conventionally considered "girls comics" But, that being said, there are an awful lot of comics this year that a lot of girls will naturally gravitate towards. Like Sweet Valley Twins: Teacher's Pet, Girl Taking Over: A Lois Lane Story Free Comic Book Day Special, FCBD Special, Sweet Valley Twins: Teacher's Pet, and Baby-Sitters Little Sister: Karen's Haircut.

Ideally, I like to visit several different comic book shops in my immediate area on FCBD to see how they celebrate the event. This year I won't even be able to spend a few hours at my home shop, but hopefully I'll be able to get a few FCBD titles after the fact (I never want to grow so cynical I can't appreciate a free comic book). There are a couple that I'm really looking forward to reading this year: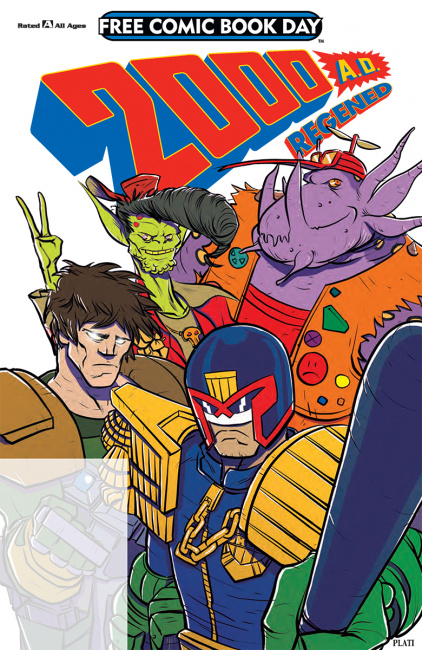 2000 AD Regened
. I love British comics and I once loved Britain's
2000 AD
but over the years that enthusiasm melted down to just vague appreciation. But periodically the editors put together an "All-Ages' ' issue that tones down the relentless dystopian anti-heroism and truncheon sarcasm a bit and features younger versions of such recurring characters as Judge Dredd and Strontium Dog. Their FCBD special is one of those, but what makes it extra special for me is it features
D.R. & Quinch
the rarely seen alien delinquents created by Alan Moore and Alan Davis' in the story "D.R. & Quinch Hijack Free Comic Book Day" by Owen Michael Johnson, Colin Bell, and INDIO.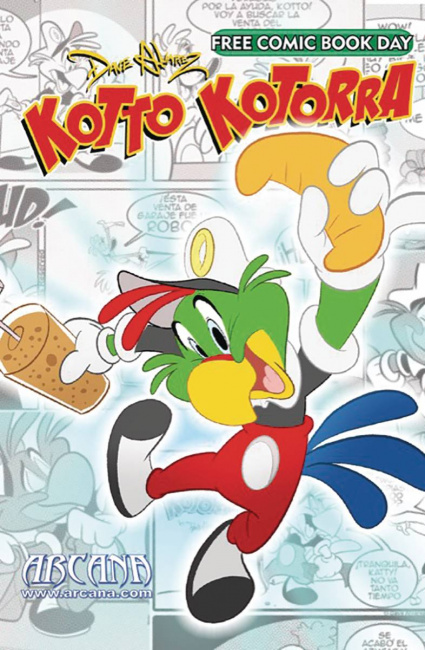 Kotto Kotorra
.
I'm also very much looking forward to reading David Alvarez's
Kotto Kotorra
. If the name sounds familiar, it is because he's the creator of the comic strip
Yenny.
Alvarez has also done outstanding work on the All-Ages DC titles
Looney Tunes
and
Scooby-Doo Team-Up
(see "
Confessions Of A Comic Book Guy -- Time For Teens
"). Kotto is "an average Puerto Rican" whose adventures take place in an "alternate Mickey Mouse Universe." In short, it's a funny animal comic by someone that I consider to be the current king of the funny animal artists, which makes
Kotto Kotorra
something that I can't wait to read.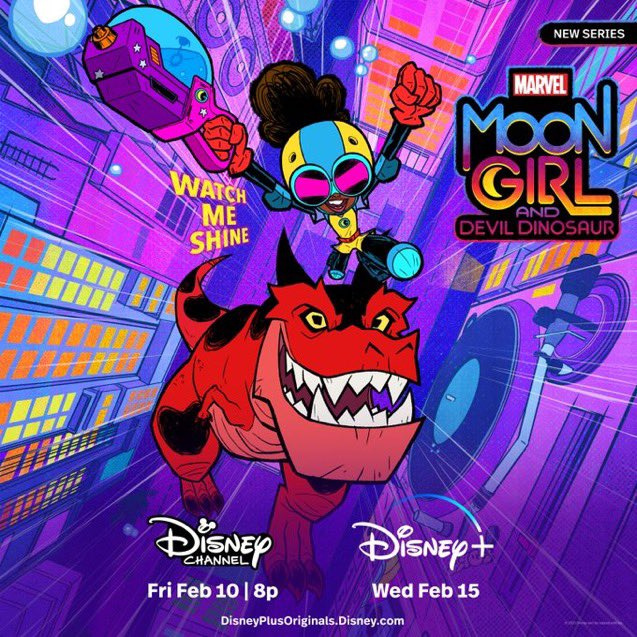 Of course Free Comic Book Day isn't just about the free comics; if your store has them, you might want to prominently display copies of such kid friendly comics as
It's Jeff!
,
The Batman & Scooby-Doo Mysteries,
Looney Tunes
,
Scooby-Doo, Where Are You?
-- and of course,
Moon Girl & Devil Dinosaur
(the animated series is a big hit on both The Disney Channel and Disney+ so it's likely a lot of kids are going to recognize her and Devil). If you have trade paperback collections or issues of the excellent just finished five issue
MM&DD
mini-series, you might want to make a window display featuring them.
The opinions expressed in this column are solely those of the writer, and do not necessarily reflect the views of the editorial staff of ICv2.com.
Click here
for more ICv2 Kids Week articles on kids' comics and graphic novels!