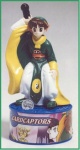 Taco Bell may have backed out of a major promotion with the Spider-Man film (see 'Spider-Man Vs. Episode 2'), but the giant fast food chain is currently involved in a month long Cardcaptors promotion. Running at some 4,200 restaurants, the Cardcaptors promotion includes four different Cardcaptors promo items, which are distributed free with all Kids Meals. The total promotion will involve up to 7 million premiums before it ends on January 30. In store POP items include window displays, a mini-banner, translite poster, backlit poster, and a special 'drive-thru' poster to alert drive-thru customers.
Retailers who wish to take advantage of the increased visibility of the Cardcaptors anime should note that Tokyopop has five volumes of the Card Captor Sakura (the series' Japanese title) manga available, while Pioneer Animation has five volumes of the Card Captor Sakura series available on video in both VHS and DVD formats.

Two additional volumes are due out on January 15 in both VHS and DVD.

Volume #7 will be available in both the subtitled only Japanese version and in the dubbed Kids WB version.

Anime fans will naturally prefer the subtitled editions, while youngsters, who have become familiar with the property through its appearances on the Kids WB, may prefer the Americanized version.

Upper Deck has the CCG.