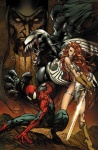 Dynamite Entertainment and Marvel Comics announced a new crossover project bringing Spider-Man and Red Sonja together to battle Venom and Kulan Gath. The pairing last appeared in Marvel Team-up #79 in 1979, by Chris Claremont and John Byrne.
The five-issue series will feature Red Sonja creators writer Michael Avon Oeming, artist Mel Rubi and colorist Brian Buccellato, with covers by Michael Turner.
Dynamite is also teaming up with Marvel this year on Marvel Zombies vs. The Army of Darkness (see ''Marvel Zombies' Take on 'Army of Darkness'').
In addition, Dynamite announced it has acquired rights to produce a new comic book series featuring Zorro with the option to produce a separate series featuring Lady Rawhide as well as other fine art and collectable merchandise featuring the Zorro cast.
Zorro has appeared in numerous incarnations since his pulp magazine debut in 1919 and first feature film in 1920. On the comic book side most recently, Papercutz launched a Zorro graphic novel adaptation for tween audiences in 2005.