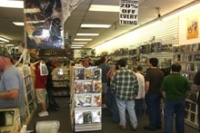 Dean Phillips of Krypton Comics in Omaha, Nebraska reports that his FCBD experience was a huge success:
FCBD was a huge success. Krypton Comics gave away thousands upon thousands of comics. We had to compete with an air show, the first day of a farmer's market, Cinco de mayo, and the annual Berkshire Hathaway Warren Buffet shareholder's meeting. Krypton's event was covered by three local TV stations, the major newspaper did an article and put together a wonderful video for its website.
The coverage was due in part to the appearance of Margot Kidder (Lois Lane from the Christopher Reeve Superman movies). Ms. Kidder signed pictures and posed with fans. Although Ms. Kidder has been at several comic book conventions, she had never done a signing in a comic book store. The line of fans was out the door and down the block from 10am-4pm. The amazing Spider-Man dazzled fans with his posing leaping around. Spidey even jumped on top of our comic bins reciting his famous line 'with great power, comes great responsibility.' Local artists Kathleen Clark, Max Riffner (winner of the Isotope award for Mini Comics), Bruce McCorkindale (The Heretic from Markosia), Fredd Gorham, Louis Simpson, Doug McCoy, Pat Cole and Rick Hiltbrunner (colorist for Dark Horse) drew free sketches until their hands gave up! The local garrison of the 501 Legion kept fans excited all day long as well.
It was great seeing all the children with comic books in their hands for the first time. That is what FCBD is about, not making people buy something in order to get a couple of FCBD books, and not imposing too many limits on the customers. If people want one of each, let them take one of each. Who knows which one will stick and make a new comic book fan.
The opinions expressed in this Talk Back article are solely those of the writer, and do not necessarily reflect the views of the editorial staff of ICv2.com.
We want to hear your story!

If you're a retailer with a story to tell about your Free Comic Book Day 2007 experience, please send us your report.

Click here for info on how to send us your Talk Back comment.

If you have digital images, just attach them to your e-mail when you send in your story.