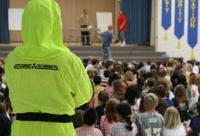 Jake Bell of Atomic Comics, with four locations in Arizona (Mesa, Chandler and two in Phoenix), reports that they continued their tradition of making Free Comic Book Day the biggest event of the year:
FCBD Eve: Kyrene del Cielo Elementary:
Free Comic Book Day may not officially be until Saturday, but Atomic Comics sees no reason to wait to start the festivities surrounding the event. Friday kicked off at Kyrene del Cielo Elementary school, where Nuke greeted the more than 400 kids who filed into the multipurpose room. But the kids weren't there to see Nuke, it was Spider-Man who was the star of the show.
Cory McClosky from Fox 10 News spent an hour handing with the webslinger and competed against the kids in a trivia contest. Artist Mike Kunkel came along to teach the kids how to draw Spider-Man and then Nuke and the Nuclear Corps handed out hundreds of free comics.
FCBD Eve: Phoenix Children's Hospital:
Free Comic Book Day Eve continues! Spidey and the crew visited Phoenix Children's Hospital. But before they handed out comics to the kids, Sheriff Joe Arpaio wanted to talk to Spider-Man. Sheriff Joe deputized the wall-crawler, praising him for all his work fighting street crime. After the press conference ended, the kids all got free comics.
The Stores:
Atomic Comics' tradition of making Free Comic Book Day the biggest event of the year continued at the North side at both of our Phoenix and Paradise Valley locations.
At the Paradise Valley location, hundreds of people lined up to have their pictures taken with Spider-Man while creators like Josh Blaylock, Francisco Herrera, and John Layman met with fans, signed their books, and sketched to raise money for the HERO Initiative. Local talents Raven Gregory and Jonnie Allen also joined in on the fun.
Meanwhile, visitors at the Phoenix store were greeted by Atomic Comics mascot Nuke, and the store played host to the entire creative team behind the smash-hit sold-out Death Dealer series: Joshua Ortega, Nat Jones, and Jay Fotos.
Fortunately, Atomic Comics set aside several of the sold-out #1 issues and had several second prints on hand for those who missed out when the book hit stands weeks ago. 'We're seeing a lot of people who bought the book and have been looking forward to having it signed, but a lot of new readers are coming through, too, which is always exciting,' said Ortega. 'I had one guy who came in and picked up Stormwatch PHD and Union Jack that he had never read before. It's nice to meet some new readers who may not be familiar with your work, and hopefully turn them on to it,' agreed writer Christo Gage. Local favorite Tony Parker also shared the table and sketched for fans.
The Mesa Superstore was literally bursting at the seams--except, not literally since there were no seams, and even if there were, the crowd within the store would still be safely contained. Spider-Man once again greeted throngs of fans, as hundreds of people waited in a line that wove snake-like through the entire back issue section, and stretched to the new release wall. Skottie Young, Rick Remender, Shannon Denton, Jim Hanna, Marat Mychaels, and Ryan Cody sketched and signed for a steady stream of fans. 'With my new book [Philly] coming out, this was a great chance to show off the book, meet new people, sketch for the fans, and help out HERO,' said up-and-coming artst Jim Hanna.
Finally, our Chandler location, the last stop on Spider-man's schedule, eagerly anticipated the webslinger's arrival. While they waited, fans met with Mike Kunkel, Patrick Scherberger, Madame M, James OWen, and Jeremy Owen, who happily signed and sketched for a healthy line of excited visitors. At last, Spider-Man swung in to find a huge crowd, many of whom had just gotten out of a showing of Spider-Man 3 at the Harkins Theatre across the concourse. Children of all ages excitedly swarmed him and he happily posed for photos and signed comics.
The opinions expressed in this Talk Back article are solely those of the writer, and do not necessarily reflect the views of the editorial staff of ICv2.com.
We want to hear your story!

If you're a retailer with a story to tell about your Free Comic Book Day 2007 experience, please send us your report.

Click here for info on how to send us your Talk Back comment.

If you have digital images, just attach them to your e-mail when you send in your story.