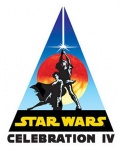 Star Wars celebrated its 30th anniversary over the Memorial Day weekend, marking three decades since the May 25th, 1977 premiere of the first film in just 32 theaters, with a series of major marketing events, promotions, and publicity. Perhaps the highest-profile event associated with the anniversary was the release of a set of 15 stamps as part of a massive U.S. Postal Service promotion around the property. Mailboxes across the country were transformed into R2-D2s, in-store signage promoted the new stamps and a contest that awarded a free trip to Star Wars Celebration IV as a prize, and fans were asked to vote on their favorite Star Wars character for a single stamp to be released later this year.
The anniversary was the occasion for Star Wars Celebration IV, the every-few-years convention for all things Star Wars run by Gen Con, LLC, held in Los Angeles from Thursday through Monday. Celebration IV kicked off with a free marathon showing of all six Star Wars movies that began Wednesday morning and ended at 2 a.m. Thursday. The show wrapped with a showing of a two minute trailer for the new Clone Wars animated TV series (see 'Lucas Self-Producing 100 Animated Episodes'), which was enthusiastically received, according to the LA Times.
The StarWars.com Website was re-launched on the 25th, with online video editing tools created by Eyespot that will allow fans to create mash-ups using 250 Star Wars scenes from all six movies. The site will also feature hundreds of past fan Star Wars films and videos, plus lots of other new features.
The History Channel premiered Star Wars: The Legacy Revealed, a two hour special, on Monday night. The documentary features interviews with politicians, such as Newt Gingrinch; with journalists, such as Tom Brokaw; critics; academics; and other celebrities, such as directors Kevin Smith and Peter Jackson.
The upshot of all this attention? Star Wars is a more potent force now that it was when the first movie exploded onto the scene. Star Wars merchandise last year accounted for $1.5 billion in retail sales, a small fraction of the $22 billion the franchise has generated since the first movie premiered. And the masterfully created marketing events surrounding the anniversary demonstrate that Lucasfilms is very capable of continuing the popularity of the brand even without any new feature films.