An ICv2 release. ICv2, with the support of sponsors Dark Horse Comics and Viz Communications, is launching its 'Tribute to Tezuka' promotion today, which includes free point of purchase display materials for retailers and information on how to market the works of Osamu Tezuka (1928-1989), the pioneer artist and animator who is singularly responsible for the remarkable growth and achievements of Japanese comics (manga) and animation (anime) since World War II. This promotion is being launched now because two major events are bringing the work of Tezuka to the attention of North American consumers. First, the US theatrical release of Metropolis (see 'Tezuka's Metropolis and More'), based on a Tezuka manga, is drawing the attention of film buffs and animation fans. And second, the relaunch of the venerable Astro Boy property in the US, including the release of the Astro Boy manga collections in English for the first time, is reminding Americans of this character that many have seen on television over the past decades.
During the past fifteen years, interest in manga and anime has been growing steadily in both the US and Europe. What was once a small group of fans exchanging translations and videotapes on the Internet has developed into a growing market able to support numerous companies adapting both manga and anime for countries all over the world. In the US during the same period, the market for comics, cards, and collectibles has seen a series of boom and bust cycles, but the audience for anime and manga has continued to grow steadily. A recent Sunday New York Times carried a glowing assessment of anime, described in the article's title as 'Japanese Cinema's Second Golden Age' (see 'N.Y. Time's Dubs Anime'). In just over a decade, a significant portion of 50 years worth of achievements in manga and anime have suddenly become available to audiences outside Japan. To understand both the appeal and the style of these works it is necessary to begin at the beginning with the seminal works of Osamu Tezuka, the founding father of manga and anime. For an introduction to Tezuka's career and works, see 'Osamu Tezuka -- An Overview.' We'll also be providing more information on Tezuka's career and work over the coming days and weeks.
Two sponsors are supporting ICv2's Tribute to Tezuka, and both Dark Horse Comics and Viz Communications are providing special free support materials for their respective Tezuka publications to help you sell them more effectively.
Dark Horse Comics
Dark Horse Comics is beginning a series of Astro Boy manga collections in March (see 'Dark Horse To Publish Astro Boy'). The series will eventually publish the complete 23-volume set of Astro Boy manga in trade paperback format. As part of the ICv2 Tribute to Tezuka promotion, Dark Horse is giving retailers an advance look at the beginning of the series by making available a special preview edition of the 23-page Astro Boy origin to provide a better look at the material before its release, and to show fans in their stores what this series will look like. Astro Boy is the most recognizable Tezuka property to American audiences, due to its decades-long presence on American TV, and given the success of past Dark Horse retro manga collections (see 'Dark Horse Releases Retro Manga Sales'), this series has the potential to be a major money-maker for pop culture retailers over the next couple of years. Click here for a link to a special Web page to request your free Astro Boy origin preview.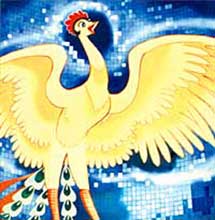 Viz Communications
Viz previously published two other Tezuka works -- Blackjack, and five trade paperback volumes of the amazing Adolph. Nominated for two Eisners and a Harvey award in the US, the Adolph story concerns two men named Adolph, one Jewish and one German-Japanese, that meet as children in Japan in the 30s and how their lives change as the third Adolph -- Adolph Hitler -- begins the cataclysm of World War II. Now Viz is publishing yet another Tezuka work in English -- Phoenix: A Tale of the Future (see 'Viz To Publish Phoenix'). Tezuka worked on the Phoenix series for decades, and many consider it the summit of his artistic achievement. Now retailers can get this beautiful 24' x 36' Phoenix: A Tale of the Future poster featuring artwork by 'God of Manga' Osamu Tezuka from Viz! Not available from distributors! Click here to request your free Tezuka p.o.p. poster.
For more information about Tezuka and his two major manga works which are being published in the US beginning this year, see 'Manga's Premiere Artist at the Top of His Game' and 'Interview with Fred Schodt.'
A number of classic works by Osamu Tezuka are currently available in the U.S. and more are scheduled to be released shortly. We recommend that retailers order (and keep in stock) the key works by Tezuka as they become available. These works are available from anime distributors (see our 'Anime Distributor Directory' for a list) and from comic distributors (see our 'Comic Distributor Directory' for a list).