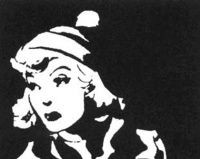 IDW Publishing has announced the summer 2008 publication of a deluxe 352-page hardcover collecting the entire run (1933-1936) of groundbreaking artist Noel Sickles on the Scorchy Smith comic strip. IDW will publish Scorchy Smith and the Art of Noel Sickles under its Library of American Comics imprint.
Denis Kitchen, who published a number of high quality comic strip reprints under his Kitchen Sink Press banner, and Dale Crain, who has served as the art director and editor of more than 100 DC Archives editions, had long planned to put out an edition of Sickles' Scorchy Smith work, but never got around to it. Now Kitchen is on board this project as a Contributing Editor, while Dale Crain is co-designing the volume with Library of American Comics Editor and designer Dean Mullaney.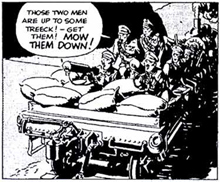 Created in 1930 by John Terry (the brother of cartoonist Paul Terry of Terrytoons) in the wake of Lindbergh's crossing of the Atlantic and the rising popularity of aviation, Scorchy Smith was one of those typical 1930s aviation adventure strips until illness forced Terry to quit the strip in 1933 and little known Ohio-born artist Noel Sickles took over.
During his tenure in which he both wrote and illustrated Scorchy Smith Sickles created an innovative art style that featured cinematic framing and breakdowns along with fluid, impressionistic linework (in contrast to the heavy outlines that were popular during the era) coupled with use of areas of pure black ink to create dramatic lighting effects and Zipatone shading. The result was that during his tenure Scorchy Smith became one of the most popular and influential strips in a medium that was at the height of its popularity.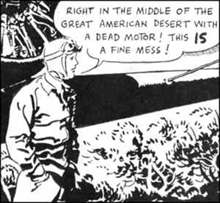 Sickles left Scorchy in 1936 in a pay dispute and went on to a highly successful career as a magazine illustrator, but his influence on the world of comic strips continued through the work of a fellow Ohioan (and Sickles' studio mate) Milton Caniff, whose Terry and the Pirates demonstrates all the hallmarks of Sickles' style. Bert Christman, who created The Sandman for DC Comics before he joined the Navy and died living the life he had illustrated piloting fighter planes for the Flying Tigers, was the first in a long succession of artists who kept the Scorchy Smith comic strip going until 1961.
In addition to every panel that Sickles drew for the strip, Scorchy Smith and the Art of Noel Sickles will contain a number of DVD-like extras including a look at Sickles' career as an illustrator as well as profiles of the series creator John Terry and Sickles' successor Bert Christman.