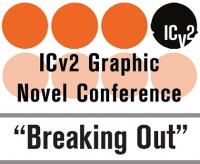 THE CONFERENCE
The graphic novel phenomenon is sweeping publishing, with growing impacts on movies, TV, and licensing. As graphic novels break out of a niche category and into the mainstream, new challenges and opportunities confront the market. Join the key players in the industry as they discuss this rapidly changing landscape.
Get inside this break-out category with the companies and people making it grow at this official event of the New York Comic Con, hosted by ICv2, the undisputed experts in the graphic novel field and publishers of the ICv2 Guide to Graphic Novels and ICv2.com.
TIME AND PLACE
The ICv2 Graphic Novel Conference will be held at the Javits Center on the eve of the New York Comic Con--Thursday afternoon, April 17th. Panels will run from 1 p.m. to 5 p.m., with a cocktail reception sponsored by Transcontinental Printing to follow.
WHO SHOULD ATTEND?
* Publishers
* Retailers
* Librarians
* Writers
* Artists
* Literary agents
* Licensors and licensees
THE PANELISTS
Confirmed panelists to date include graphic novel buyers from specialty retail chains, wholesalers, a top library system, and an internationally known comic store. More panelists are now being added frequently--check back for new info.
Jeff Ayers -- Store Manager and Graphic Novel Buyer, Forbidden Planet
Dan Buckley -- Publisher, Marvel Comics
Liza Coppola--Sr. Vice President, VIZ Media
Milton Griepp -- Publisher, ICv2
Judith Hansen -- President, Hansen Literary Agency
Merrilee Heifetz -- Senior V.P., Writers House Literary Agency
Alison Hendon--Youth Selection Team Leader, Brooklyn Public Library
Kazu Kibuishi- Editor, Creator, Flight, Flight Explorer, Amulet
Mike Kiley -- Publisher, Tokyopop
Jim Killen -- Graphic Novel Buyer, Barnes and Noble
Ed Masessa -- Senior Manager Product Development, Scholastic Book Fairs
Bob Mecoy -- Literary Agent, Bob Mecoy Literary Agency
Betsy Mitchell -- Editor in Chief, Del Rey Books
Calvin Reid -- Senior Editor, Publishers Weekly
Jim Salicrup -- Editor in Chief, Papercutz
Bill Schanes -- Vice President Purchasing, Diamond Comic Distributors
Ginee Seo -- V.P. and Editorial Director, Ginee Seo Books, Antheneum Books for Young Readers, an imprint of Simon & Schuster Children's Publishing Group
Mark Siegel -- Editorial Director, First Second Books
THE PANELS
Publishers, retailers, librarians, creators, literary agents, and licensors and licensees will all find the ideas they need to inform and inspire their growth for the coming years.
ICv2 White Paper -- Inside a Growing Category
Presented by Milton Griepp, ICv2
As graphic novels break into the mainstream, understanding the underlying trends becomes even more important. In this session, ICv2 will present the results of its annual graphic novel industry survey, providing insights into issues such as title mix, industry sales, and channels, all in a strong historical context that provides perspective for the trends.
The Battle for Talent
Moderated by Calvin Reid, Publishers Weekly
As trade book publishers and fiction writers enter the graphic novel market and adaptations of literary properties hit the graphic novel bestseller lists, the relationships between comic creators and publishers are going through a period of change more rapid than at any time since the 80s. Now creators may be represented by literary agents or packagers, the media rights for graphic novels are a key aspect of publishing rights, and international publishers both supply and are supplied by the American graphic novel business. Join our panel as they discuss how these new influences are changing what gets published, and how.
Graphic Novels and Tweens
Moderated by Milton Griepp, ICv2
There may be more tween readers of comics in North America now than there have been at any time in the last 30 years. Where are these new consumers coming from, and how are they finding out about graphic novels? What are the roles of mass media on the one hand, and schools and libraries on the other, in this process? Why has manga been more successful than domestic material with tweens? And can this kind of growth continue? Join us for this panel discussion of one of the most exciting areas of publishing.
Buyers Panel -- Graphic Novels, the Next Three Years
Moderated by Milton Griepp, ICv2
Graphic novel buyers are often the people that spot trends first because they see aggregated consumer demand on a wide range of titles. In this panel, key graphic novel buyers from multiple channels will discuss what's selling and why, how the market's changing, and what kinds of products they think will grow the market in the next three years.
Transcontinental Printing Cocktail Event!
A chance to meet, mingle, and have a refreshing beverage, courtesy of event sponsor and major graphic novel printer Transcontinental Printing.

Publishers Weekly
Publishers Weekly is the leading publication serving all segments involved in the creation, production, marketing and sale of the written word in book, audio, video and electronic formats. It is the prime source of comprehensive news and provides unique industry data including an annotated bestseller list, hot deals and retail news. A 134-year old magazine -- with over 100,000 dedicated readers --PW is recognized as the leading publication for international and U.S. book publishing needs. PW's Website, PublishersWeekly.com is packed with great information from the hottest industry news to book reviews to the popular e-newsletters and much more.
Transcontinental Printing
Transcontinental is the largest printer in Canada and seventh in North America, and is also the country's leading consumer magazine publisher and second largest community newspaper publisher. From mass to highly personalized marketing, the company offers its clients integrated solutions which also include a diverse digital platform and a door-to-door distribution network of advertising material. Transcontinental is a company whose values, including respect, innovation and integrity, are central to its operation. Transcontinental (TSX: TCL.SV.A, TCL.MV.B) has more than 14,000 employees in Canada, the United States and Mexico, and reported revenues of C$2.2 billion (US $1.9 billion) in 2005.

VIZ Media, LLC
Headquartered in San Francisco, California, VIZ Media, LLC (VIZ Media), is one of the most comprehensive and innovative companies in the field of manga (graphic novel) publishing, animation and entertainment licensing of Japanese content. Owned by three of Japan's largest creators and licensors of manga and animation, Shueisha Inc., Shogakukan Inc., and Shogakukan Production Co., Ltd. (ShoPro Japan), VIZ Media is a leader in the publishing and distribution of Japanese manga for English speaking audiences in North America and a global licensor of Japanese manga and animation. The company offers an integrated product line including, magazines such as Shonen Jump and Shojo Beat, graphic novels, videos, DVDs and audio soundtracks and develops and markets animated entertainment from initial production, television placement and distribution, to merchandise licensing and promotions for audiences and consumers of all ages.
REGISTER TODAY!
For only $199, you can participate in this exciting event on the future of the graphic novel industry with the companies and people making it grow.
NOTE: This conference is open only to those who hold a Professional or Exhibitor Pass!
New York Comic Con Exhibitors are also invited to attend the ICv2 Graphic Novel Conference. Exhibitors can add this option when registering for their Exhibitor Badges or may do so by calling 888.605.6059.
PRESS
The ICv2 Graphic Novel Conference will honor New York Comic-Con press credentials. Please e-mail Anne Gassere to let us know you're coming, or with any questions: AGassere@ICv2.com

NEW YORK COMIC CON
New York Comic Con is operated by Reed Exhibitions which is the world's leading events organizer. In 2006 Reed brought together over six million industry professions from around the world generating billions of dollars in business. Today Reed events are held in 34 countries throughout the Americas, Europe, the Middle East and Asia Pacific, and organized by 37 fully staffed offices. Reed organizes a wide range of events, including exhibitions, conferences, congresses and meetings. Its portfolio of over 460 events serves 52 industry sectors, including: Aerospace and defense, building and construction, design, electronics, energy, oil and gas, entertainment, food and hospitality, gifts, healthcare, IT/telecoms, jewelry, manufacturing, marketing and business services, pharmaceuticals, property, publishing, security, sport and recreation, transport and logistics, travel. Working closely with professional bodies, trade associations and government departments Reed ensures that each and every event is targeted and relevant to industry needs. As a result, many Reed events are market leaders in their field.

SPONSORS
The ICv2 Graphic Novel Conference is sponsored by Publishers Weekly, Transcontinental Printing, and VIZ Media, LLC.