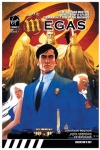 The Hollywood trades are reporting that Terminator 3 director Jonathan Mostow is working with Virgin Comics to develop a motion picture based on his Virgin 'Director's Cut' comic book series The Megas, which debuts in comic shops today. No screenwriter has been announced but Mostow hopes to get the project set up before he starts shooting his next film, The Surrogates, a sci-fi thriller starring Bruce Willis.
Mostow co-wrote The Megas comic book series with John Harrison (Dune) and based it on his original story about a world in which the American Revolution yielded a monarchy with a privileged aristocracy (The Megas). A detective involved in investigating the murder/suicide of a royal prince and three prostitutes begins to rethink his beliefs and support of the monarchy as he uncovers the layers of corruption.
Peter Rubin, a conceptual artist at Industrial Light and Magic, provides the art for The Megas comic book.