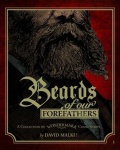 Dark Horse has been the most active major comics publisher in collecting Webcomics starting with Fred Gallagher's Megatokyo, which it took over from the ill-fated Studio Ironcat and published in book form from 2004-2006. Dark Horse followed its success with Megatokyo, which quickly became the #1 OEL (original English language) manga title, by publishing another highly successful Webcomic, Jerry Holkin and Mike Krahulik's video game-themed Penny Arcade. Then last November Dark Horse published the first collection of Nicholas Gurewitch's hugely amusing and often controversial Perry Bible Fellowship Webcomic. The first edition of PBF: The Trial of Colonel Sweeto and Other Stories quickly sold out its first printing of 36,000 copies (it is now on its third printing).
With this kind of success, it is no surprise that Dark Horse has announced a new series of Webcomic collections including Wondermark by David Malki, Achewood by Chris Onstad, and Nothing Nice to Say by Mitch Clem, all of which will be out by October along with the Perry Bible Fellowship Almanac, which will collect almost all of the extant PBF material and is certain to be a bestseller.
In August Dark Horse will also publish The Complete K Chronicles ($24.95), a 500-page compendium of all the material previously self-published by K Chronicles creator Keith Knight. In fact Knight is not the only Webcomics creator who is moving from self-publishing to working with Dark Horse, which can supply first-rate production abilities as well as great distribution in both the direct and bookstore markets. Chris Onstad has self-published several collections of his Achewood comics, but the new Dark Horse Achewood volume, which will include 'The Great Outdoor Fight' saga, is likely to be his bestseller.
David Malki's Wondermark: Beards of Our Forefathers is due out in a 96-page hardcover edition from Dark Horse in June. Malki's innovative strip makes use of all sorts of vintage engravings and illustrations, which are repurposed to great comic effect in collage-style comics. At the other end of the stylistic spectrum is Mitch Clem's punk rock-inspired Nothing Nice to Say, which is due out in September from Dark Horse -- and given the tremendous success of both the Penny Arcade and (especially) the Perry Bible Fellowship collections, it is likely that Dark Horse will continue to add new Webcomics volumes to its growing list of graphic novel releases.