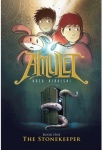 Will Smith progeny Willow and Jaden Smith are attached to star in Amulet, the movie based on Kazu Kibuishi's graphic novel series from Scholastic (see "Scholastic Gets Kazu Kibuishi's Amulet"), according to Variety. Kibuishi is the editor of the Flight anthologies from Image and Scholastic.
Parent Will Smith is a producer. Both Smith kids will be acting veterans by the time they shoot Amulet. Willow appeared in I Am Legend and will appear in Kit Kittredge: An American Girl Mystery. Jaden appeared in The Pursuit of Happyness and will appear in The Day the Earth Stood Still.
The first volume of Amulet was released in January.