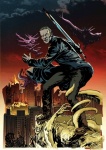 IDW will release a new comic miniseries, Spike: After the Fall, beginning in July. Brian Lynch and Franco Urru, the creative team on Angel: After the Fall (see "IDW San Diego Announcements"), will handle the creative chores on the new four-issue miniseries.
The story for the new Spike miniseries will flow out of "First Night," an upcoming story arc in issues #6 through #8 of Angel: After the Fall. The First Night story arc explores the effects on the Angel cast of the apocalyptic fight in the alley that concluded the TV series. Issue #6 will focus on Spike, Connor, and Lorne; #7 will focus on Wesley and a long-absent character from the Whedonverse; #8 features Gwen, the effect on LA being thrust into hell on the city's denizens, and the tale of Gunn's fate. Issue #9 of After the Fall will ship two weeks after #8 in June, and will pick up on the cliffhanger from the end of issue #5.
New art teams will work on these issues. Issue #6 will feature art by David Messina, Stephen Mooney, and John Byrne; #7 will feature art by Nick Runge with a wraparound cover by Rebecca A. Wrigley and a special variant cover by Mike Oeming; #8 will have art by Fabio Mantovani, Kevyn Schmidt, and Mirco Pierfederici. All three issues will include a framing sequence featuring Betta George, illustrated by Tim Kane. The art team on #9 will be Nick Runge and Art Lyon.
The Spike: After the Fall storyline will take Spike from the events in "First Night" and explore his changing relationship with Illylria in the new city. It will answer many questions, including how Spike ended up taking over a certain mansion in Westwood.