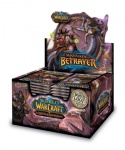 We sat down with Scott Gaeta, Director of Marketing at Upper Deck, at the recent GAMA Trade Show in Las Vegas to talk about Upper Deck's release plans for 2008.
ICv2:
We'd like to start with the World of Warcraft TCG. Can you go over Upper Deck's plans for that line between now and the end of the year?
Scott Gaeta:
Servants of the Betrayer just launched about a month or so ago, and we just announced this week that it's sold out at the manufacturer level. There should be products still in the distribution chain.
The cool thing about that is we introduced a new way to play, they're called Betrayer Heroes). So in the set normally we do about 18 heroes and in this set we had double the number of heroes. It had 36, and what that means is there was the regular 18 and then there was basically the dark side version of all those 18. Part of the WoW storyline is that you have Illidan who's the Betrayer who turns on all his people, and that's the big theme in the latest expansion. So this takes that premise and allows the player to play a hero that betrays his faction and goes over to the dark side.
ICv2:
What's the trend line for WoW sales?
Gaeta:
Right now they've been pretty much steady since Fires of Outland.
ICv2:
What's coming up next for that line?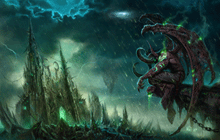 Gaeta
:
July 1st will be The Hunt for Illidan, and that will finish off the Year 2 block. Hunt for Illidan is focused on the big bad guy. He was the marquee bad guy in the Burning Crusade expansion in the MMO.
ICv2:
How many sets between that and the end of the year?
Gaeta:
After that will be one more set in November.
ICv2:
Has that been named yet?
Gaeta:
Drums of War.
ICv2:
Are both of those sets going to be in both starters and boosters, or boosters only?
Gaeta:
Booster only for Hunt for Illidan. We'll go back to a starter with Drums of War in November, because we start a new block. Currently the plan is to do starter at the first set of every new block.
ICv2:
Any holiday products?
Gaeta
:
There will be a product in September which will be a Black Temple Raid Deck. Black Temple is the home of Illidan; that's his fortress within the Warcraft world. Within this raid deck, players will be able to take on and try to defeat Illidan.
The cool thing about this raid deck that's different from previous raid decks is that more of the content within the raid deck is actually usable in your regular constructed decks. There's also going to be cards in the Hunt for Illidan expansion that you can also use to customize your Black Temple Raid Deck. So it kind of goes both ways. We haven't done that previously.
ICv2:
So no tins or any collections, or sets for the holidays?
Gaeta:
There's going to be a fall collection which is called the Darkmoon Faire Collector's Set.
ICv2:
What marketing support will you be providing for the World of Warcraft Miniature Game launch?
Gaeta:
Here at GAMA, we distributed a lot of sample minis to hobby retailers so they could bring it back to their stores and show it off in their shops. The next step for hobby retailers is as long as it works out with China and manufacturing schedules, about a month before the product launches we're going to try to send every hobby store on our list a starter box set with four figures, a map and the rulebook, so that way they can demo and preview the game.
ICv2:
Will you be doing any advertising?
Gaeta:
We'll run the whole gambit—print, lots of online. This is consistent through both Warcraft brands: our goal is always to reach MMO players. We want to bring new players into the hobby. It's pretty easy for us to reach the core hobby gamers; that's fairly simple. The real challenge is going out there and reaching these MMO players.
ICv2:
What's going on with Yu-Gi-Oh! between now and the end of the year? How many sets will there be?
Gaeta:
Between now and the end of the year there will be three more core boosters. The next one is Light of Destruction coming up in about a month. Light of Destruction is the last set based on current content. In September, Yu-Gi-Oh! 5D's will be the new TV show that launches and starting with the set that releases late summer, that set will have content from the new show.
We've got a set that comes out the first week of September called Duelist Genesis. After Duelist Genesis, the next set comes in November and will be called Crossroads of Chaos.
ICv2:
Will there be Yu-Gi-Oh! holiday tins?
Gaeta:
There will be holiday tins.
ICv2:
What's the lineup for Versus?
Gaeta:
There are two sets planned. Marvel Universe is coming out in June, and then there's another set coming out in the fall. Both are Marvel-themed sets. The Marvel Universe set coming out in June was created with user feedback. Over about six weeks we ran lots of polls and through processes of elimination, we let the players drive the content of the set, which is pretty cool.
ICv2:
We've seen Marvel try to incorporate their editorial events into game products. Do you have any plans to try to do that?
Gaeta:
We haven't been able to work that out with Marvel because we work about 12 months in advance and just between their editorial schedules and our production schedules, it's been tough to sync up.
ICv2:
Tell me about Marvel Ultimate Battles.
Gaeta:
The first product is out. Just came out this week.
ICv2:
How was the sell-in?
Gaeta:
The sell-in was actually pretty good. It's in hobby and in mass and it's focused on kids 7-12 years old. It's very simple game play and it takes the premise of "you pick your three superheroes or supervillains and you sit down across a table from another kid." It's the splash page battles that you would normally see in comic books.
ICv2:
Are there any more products for that line this year?
Gaeta:
There'll probably be another one in the fall.
ICv2:
Tell us about any entertainment trading card releases between now and the end of the year.
Gaeta:
We have two more. We have two Marvel Masterpieces releases planned this year. Marvel Masterpieces 2 will be this summer, scheduled for late July. The next one will be Marvel Masterpieces 3, scheduled come out in November for the holiday season. We're going back to the same formula that we used before: sketch cards in every box, parallel sets, foils. We're adding some other chase elements in the next set--there will be costume cards from Marvel movies, from the Fantastic Four movie.