Two Webcomics by Ryan Sohmer and Lar DeSouza have garnered significant audiences online and are starting to make the move into printed products and other media. Least I Could Do and Looking for Group are controlled and published by Blind Ferret Entertainment, co-founded by Sohmer and Randy Waxman.
Least I Could Do, which follows a sex-obsessed twenty-something male character who loves science fiction and fantasy, has been around for about four years, and is now read by over half a million daily readers worldwide in college newspapers and on the Web. It's being developed for a TV pilot by CineGroupe for Canada's Teletoon, probably in both English and French.
Least I Could Do has been collected into several annual collections, which to date have been sold only online direct to consumers, and more recently directly to retailers. Plans are to repackage the material into half-year collections for targeted distribution into stores.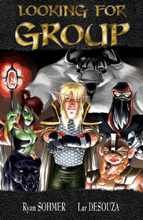 Looking for Group is a newer strip, launched in December 2006. The term "looking for group" refers to online roleplayers that want to team up with other players, and the storyline follows an elven warrior looking to save the world from tyranny in a MMORPG-type setting. Since its launch, LFG has been read by nearly 1.8 million unique readers.
Looking for Group is being developed for a motion picture by Muse Entertainment.
A periodical comic of Looking for Group material has been distributed by Diamond. Blind Ferret recently produced a $22.95 book collection and sold it to consumers online and direct to stores. Waxman told us that around 80% of the 5000 copy print run had sold out in the first three weeks after release.