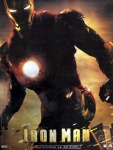 Marvel Studios' Iron Man surpassed all expectations, earning an estimated $100.7 million from its debut weekend and amassing an overall total of $104.25 million including its Thursday screenings. Iron Man's debut was the second best opening for a non-sequel ever (only the first Spider-Man with its $114.8 million total was better), the fourth highest comic book-based debut (behind Spidey 1, Spidey 3, and X-Men: The Last Stand), and the 10th largest opening all time. Iron Man, which opened in 4,105 theaters, averaged a stellar $24,543 per venue. Ticket sales actually increased from Friday ($35 million) to Saturday ($37.5 million), which is a very good sign as was the $96.7 million the film took in overseas.
Estimates for Iron Man's debut ranged in the $70 to $80 million range (see "A Lot is Riding on Iron Man"), so the $100 million plus opening was very good news for Marvel Studios, which is expected to announce its films for the 2010 season tomorrow.
It was also good news for Hollywood in general, since it got the summer movie season off with bang. The weekend was down 13% from last year (a drop was inevitable in comparison with Spidey 3's unbelievable $151.1 million opening a year ago), but the percentage decline could have been a lot bigger.
Audiences evidently loved Jon Favreau's Iron Man, which posted a CinemaScore grade of "A," which could mean that word-of-mouth will provide the film some "legs" during a very competitive month of May (see "Best in Shows 2008, Part I"). Interestingly enough the film did its $100 million damage without snaring a huge percentage of females—the Iron Man audience was a whopping 71% male (the women were evidently at Made of Honor, the #2 film and a successful example of counter-programming, which earned $15.5 million from a audience that was 75% female). With its great reviews and forty-something star (Robert Downey, Jr.) Iron Man also brought out an older audience—64% of filmgoers were over 25. It should be interesting to see how Iron Man will fare in its second weekend when it faces competition from the more youth-oriented Speed Racer from the Wachowski brothers.