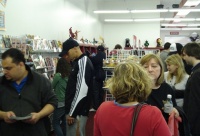 Patrick Brower of Challengers Comics + Conversation in Chicago, Illinois shares his experience with Free Comic Book Day 2008 (see "National Comics Holiday this Weekend"); this was his best one yet :

Free Comic Book Day 2008 is now one for the books. Free books as it were, and Challengers Comics + Conversation in Chicago had a truly amazing day. Challengers is a brand new store in the Bucktown/Logan Square neighborhood of Chicago and this was our first FCBD, but both myself (Patrick Brower) and co-owner W. Dal Bush have worked every FCBD at different stores, so I guess you could say this was our combined 14th. And it was by far and away our greatest FCBD experience yet.
We were lucky enough to get the totally in-demand Tiny Titans creative team of Art Baltazar and Franco to appear. They were scheduled to sign from 12 noon until 3:00 pm. They wound up signing almost all day! And giving out free sketches and caricatures. They were two of the nicest creators I've ever had the pleasure to host in my almost 18 years retailing. They made everyone feel at home and did a better job of promoting Challengers than I did!
We also had local band Gincy on hand to play two acoustic sets, one before and one after Art and Franco did their thing. Ginchy front man Mike Hodgin played well to the crowd and even coaxed several audience members, myself included, into singing with the band Ginchy was so entertaining that the aforementioned Art and Franco stayed for the whole second set!
And let us not forget the comics! Of course Tiny Titans was a huge, huge hit, along with Marvel Adventures Hulk Iron Man and Spider-Man. All Star Superman was high in demand as was Top Shelf's Owly and Friends. Surprises for the day were the sell-out (can you say 'sell-out' for free books?) performances of BOOM! Studios' Salem, Ape Entertainment's Cartoon-Apalooza, Sky Dog's Comic Book Diner, Graphic Classics and Amelia Rules! Dark Horse's Hellboy/BPRD was also a sell-out but that was not a surprise.
There were hundreds of people that came in to Challengers today and that was well above our greatest expectations for a store barely a month old! This was one of the best days I have ever worked in the comic book industry and I mean that in terms of customer appreciation and my own personal satisfaction. I cannot wait for FCBD #8 in 2009!
The opinions expressed in this Talk Back article are solely those of the writer, and do not necessarily reflect the views of the editorial staff of ICv2.com. Share your Free Comic Book Day story at Comments@ICv2.com.