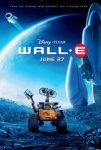 Pixar's Wall-E easily took the weekend box office crown with an estimated total of $62.5 million, the fourth best opening for a Pixar film and the strongest debut for an animated feature so far in 2008. While Wall-E fulfilled all expectations, Wanted, which is based on the comic book series by Mark Millar and J.G. Jones, did far better than anyone expected, earning an eye-popping $51.1 million. Together with a strong cast of holdover titles, Wall-E and Wanted led Hollywood to its best weekend of the year so far with a total that topped the corresponding 2007 weekend's gross by more than 20%, capping off a record setting June.
Wall-E's debut was very close to Monsters Inc.'s total of $62.6 million and considerably better than last year's Pixar entry Ratatouille, which took in $47 million and 2006's Cars, which earned $60.6 million. With stunning notices from the critics (a 97% positive rating on Rotten Tomatoes) and a CinemaScore of "A" from its opening weekend audiences, Wall-E appears to be set to follow in the Pixar tradition of long, strong runs at the box office. The audience for Wall-E was 51% female and 59% under 25, but the film is so brilliantly mounted that parents will find it no chore to accompany the kids to this "G" rated film that is simply another highly original, newly-minted classic from the only American animation outfit that can rival Miyazaki's Studio Ghibli for consistent excellence in its output.
The only possible problem with Wall-E's long range box office potential could be the young audience. With almost no dialogue during the film's first 40 minutes, the movie could be hard for some youngsters to follow, though its robot hero is immensely likeable and sure to appeal to most kids. And like Ratatouille, this is an immensely sophisticated film that is bound to do exceptionally well worldwide.
Wanted has proved to be Angelina Jolie's best-opening ever. Though she is billed third, she was featured prominently in the ads for the movie and was undoubtedly a major factor in its surprisingly strong debut. Tyro Russian director Timur Bekmambetov kept the action in Wanted moving at a breakneck pace and audiences responded by making it the third highest "R" rated summer movie opening ever, trailing only The Matrix Reloaded ($91.8 million in 2003) and Sex in the City ($56.8 million in May 2008).
According to studio research the audience for Wanted was 52% male (a pretty good mix for a "hard R" action movie) and older, with just 51% under 30. With Wanted opening in 817 fewer theaters than Wall-E, the comic book-based film actually managed a higher per theater average ($16,100) than Wall-E ($15,656). The only negatives to come out of Wanted's superb opening weekend were an 8% drop from Friday to Saturday night and a less-than-stellar CinemaScore rating of "B."
With sales of the Wanted graphic novel already strong in both bookstores and the direct market, if this film can continue its strong run in the face of heavy upcoming competition from Hancock, Hellboy and The Dark Knight, the Wanted graphic novel from Top Cow could be the surprise movie-powered hit of the summer.
Marvel Studios' The Incredible Hulk definitely felt the effect of Wanted's sterling opening. The battlin' behemoth's gross dropped 58.3% during its third weekend, giving it a cumulative of $115.5 million. It is now just 1% behind the total amassed by Ang Lee's Hulk film from 2003 during its 3rd weekend. Marvel Studios was hoping that the new Hulk movie would demonstrate better "legs" than Ang Lee's movie, but that could be difficult in this highly competitive summer season.
Meanwhile, after eight weeks in the top ten Marvel Studios' Iron Man fell to #11, but still managed to bring its total take to $309.1 million. Iron Man's prime competition (at least so far) for 2008 box office champion, Indiana Jones and the Legend of the Crystal Skull, fell to #7 as it added $5 million its total, which has now reached $299.9 million.