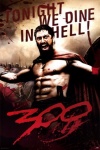 Legendary Pictures is "developing a 300 follow-up for Warners that Frank Miller is writing and Zack Snyder is intended to direct," according to Variety. Miller is writing the graphic novel that the film will be based upon, but it's not known whether it will be a prequel or a spin-off (it can't be a sequel since King Leonidas and his band ended the first film by attending a banquet in Hades courtesy of the Persian hordes).
Snyder told an audience at the Saturn Awards that he was interested in directing the new 300 film, but wanted to see what Miller came up with before making a final decision.
According to Variety the new 300 project is a "major priority" for Legendary Pictures. But as Variety also pointed out it is often a difficult task to come up with a sequel to bloody action films: "especially when the main characters kick the bucket the first time out," citing Gladiator and I Am Legend as examples of successful films that the studios really wanted to turn into franchises, but can't.
Whether or not a 300 sequel gets made, the tremendous success of the film has spurred the creation of several new "sword and sandal" epics. Warners has set up a remake of Clash of the Titans, while Relativity Pictures is producing another epic of the ancient world, War of the Gods.
Given the enormous success of 300 in terms of graphic novel sales (it was the bestselling graphic novel of 2006)--a new film based on a 300-related Frank Miller graphic novel would be a pleasant prospect indeed for pop culture retailers.