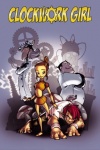 Arcana Comics has announced that Telefilm Canada, a federal culture agency dedicated to the development and promotion of the Canadian audiovisual industry, has provided funding for a Clockwork Girl animated film. The no-strings governmental funding should assure that the creators of the Clockwork Girl comic, Kevin Hanna and Sean O'Reilly, should be able to make exactly the kind of film they want.
Written by Arcana EIC Sean O'Reilly and Kevin Hanna with distinctive art by Grant Bond, the Clockwork Girl mini-series was the first release from Arcana's all-ages division, Arcana Kids. Clockwork Girl is a Romeo & Juliet saga of love between a mutant boy named Huxley and a girl robot. If love between a human and a robot were not a difficult enough proposition on its own, Huxley happens to be the offspring of a clan of life scientists who believe that biology is the supreme human intellectual endeavor, while the eponymous Clockwork Girl is from a family that believes the future of mankind lies in the development of robot technology.
Arcana has published the complete four-issue Clockwork Girl miniseries, but a hardcover graphic novel collection of the entire saga is coming out at the end of July.