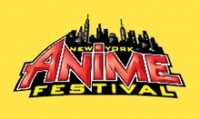 New York Anime Festival attendance was estimated at over 18,000 by Reed VP Lance Fensterman, an increase of around 24% from the attendance at the first Reed New York anime show in December 2007 (see "Big Apple Salutes Anime").
Friday was slow, but both Saturday and Sunday were up substantially over last year, according to Fensterman, who indicated that he was looking for ways to keep the exhibit hall open longer to give fans more time to hit the floor.
Dates for next year have been announced: September 27-29.