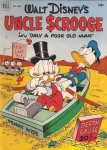 Charles Kochman, Executive Editor of Abrams Comics Arts, has announced that Abrams has acquired The TOON Treasury of Funny Comic Books for Kids, a collection of classic children's comics from the 1940s to the 1960s edited by Francois Mouly and Art Spiegelman. Spiegelman and Mouly will compile the selections with the help of an editorial board that includes Jeff Smith, Frank Young, Seth, Steve Geppi, Paul Levitz, Jeet Heer, John Benson, and Chris Duffy. The lavishly produced, large format TOON Treasury of Funny Comic Books for Kids is scheduled for publication by Abrams Comics Arts in the fall of 2009.
The TOON Treasury will focus on comic books, not strips and will feature humorous self-contained stories that range from a single page to eight or sixteen pages. Art Spiegelman points out the importance of this collection: "Now that comics are no longer automatically dismissed as trash we can demonstrate that the best of them stand among the greatest literature produced for children in the past century—and some of most sophisticated works done for comics were the humor books for younger children."
The TOON Treasury will feature representative works by creators such as Carl Barks (Uncle Scrooge), John Stanley (Little Lulu), Sheldon Mayer (Sugar and Spice), Walt Kelly (Pogo), Basil Wolverton (Powerhouse Pepper), and George Carlson (Jingle Jangle) among many others.