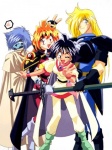 FUNimation has announced three anime properties for which it has obtained licenses, one new and two previously released in the U.S. Slayers Revolution is a 26-eposide series following the three previous Slayers series (Slayers, Slayers Next and Slayers Try); FUNimation will release the complete series on DVD.
FUNimation acquired the rights to the 24-episode Gankutsuou: The Count of Monte Cristo series from GDH. The series was previously distributed in the U.S. by Geneon.
And FUNimation will distribute the 26-episode series Gungrave for Geneon, in addition to previously announced Geneon titles Ergo Proxy, Hellsing Ultimate, and Black Lagoon.