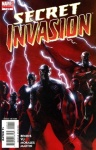 Marvel's Secret Invasion #1 was the bestselling comic book of 2008 according to rankings released by Diamond Comic Distributors. All eight issues of the mini-series placed in the top ten with the sequence interrupted only by Uncanny X-Men #500 in the seventh spot and DC Comics' Final Crisis #1 at #9.
Not surprisingly Alan Moore and Dave Gibbons' Watchmen was the bestselling graphic novel in comic shops just as it was in bookstores thanks to a huge surge in sales after the trailer for Zack Snyder's Watchmen movie adaptation un-spooled in front of the mega-popular The Dark Knight. Christopher Nolan's Batman film also had a more direct effect on graphic novel sales. Batman: The Killing Joke Special Edition was the #2 graphic novel of the year followed by Brian Azzarello's Joker at #3 (in spite of the fact that it wasn't released until November), and Frank Miller's venerable The Dark Knight Returns at #6.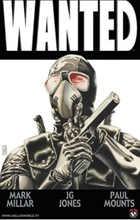 Mark Millar's
Wanted
(published by Top Cow), which finished the year at #8, was another beneficiary of a popular movie adaptation, while Dark Horse's
Buffy the Vampire Slayer
Season 8
Vol.2 represents the continuation in graphic novel form of Joss Whedon's popular TV franchise.
Three non-superhero genre properties grabbed the rest of the spots on Diamond's "Top 10 Graphic Novels" of 2008 list. The most popular was Volume 10 of Brian K. Vaughan's science fiction epic Y: The Last Man, which ended up at #4, but what is perhaps most impressive was the presence in the tenth spot on the list of the first volume of the Y: The Last Man series, which was originally published back in 2003--a sure indication that many new readers were discovering this excellent series.
The number five title on Diamond's list represents the most underrated franchise in comics, Robert Kirkman's Walking Dead from Image. Like Walking Dead (and Y), Bill Willingham's Fables (from Vertigo), which grabbed the seventh spot, is now catching on the bookstore market after first establishing itself as a top genre title in the comic shops.
Marvel Comics with a 45.82% market share (in units) was the top direct market publisher followed by DC Comics with 31.67%, Dark Horse Comics (5.05%), Image Comics (3.03%) and IDW (2.92%).