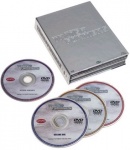 The Transformers GI Season 1 DVD Boxed Set (srp $59.95) is not sold out. Rhino Home Video is continuing to produce more of the sets in the same deluxe format and additional product will soon be available at retail. The entire first wave of Transformers Season I Boxed Sets blew through retail faster than a supercharged Optimus Prime, but this is not a limited edition and Rhino will continue to keep the set available.
Given the enormous success of the Dreamwave Productions Transformers comic (see 'Retro Rules April'), even retailers who don't normally stock DVDs should seriously consider bringing in the Transformers Season I set. The Transformers are back on TV (see 'Transformers and Big O Back on TV') and WotC is even set to release a Transformers CCG later in the year (see 'Wizards of the Coast to Launch Transformers CCG'), so this property is going to continue to stay in the spotlight. ICv2 has been aware of the potential of these 'retro' toons since they were announced (see 'Retro Toon Update') and they were one of the biggest stories of the last year (see 'Top Movie/TV Merchandise Stories of 2001'), so the lightning sell-through of the Transformers Season I Boxed Set comes as no surprise.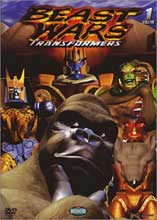 Rhino has more good news in store for retailers: the Transformers GI Season 2 DVD Boxed Set should be out before Christmas. But retailers shouldn't limit themselves to the G 1(Generation 1) Transformers DVDs. Rhino has also released the first two DVDs featuring the 90s series, Transformers: Beast Wars. The first two Beast Wars DVDs, Vol. 1 & Vol. 2 (srp $19.95) are already out, and the computer-aided animation looks and sounds great on DVD. Two more volumes of the Beast Wars DVDs are slated for release this August. And don't think that this 80s/90s revival is limited to the U.S. -- Pioneer has just announced a Region 2 (Japan) boxed set edition of the Transformers Headmasters series from 1987. American fans can only hope that someone will release a US version soon.
One more very encouraging sign comes from the 'Briefs' section of the current issue of ToyFare magazine teasing an article from the next ToyFare, which will reportedly detail Hasbro's plans to bring back the original Generation 1 Transformer toys.

Needless to say new versions of the original GI Transformers toys would be the perfect complement to GI DVD Boxed Sets and the new Dreamwave comic series.