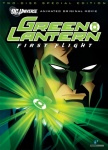 Warner Home Video announced at WonderCon that the next DC Universe animated feature will be Green Lantern: First Flight, which will street July 28th. Three versions will be released: the single disc ($19.98), a Special Edition 2-disc set ($29.98), and Blu-ray ($34.99).
In GL: FF, Hal Jordan is recruited to join the Green Lantern Corps, where he's placed under the supervision of Sinestro. Jordan must hone his newfound powers and battle the treasonous Lanterns to maintain order in the universe.
This will be the fifth release in the series, following Wonder Woman, Teen Titans: The Judas Contract, Justice League: The New Frontier, and Superman Doomsday. It's a co-production of Warner Premiere, DC Comics, and Warner Bros. Animation.
GL: FF will be directed by Lauren Montgomery, who directed Wonder Woman and Superman: Doomsday, and written by Alan Burnett (The Batman). The all star voice cast talent includes Christopher Meloni (Law & Order: SVU), Victor Garber (Milk, Titanic), Tricia Helfer (Battlestar Galactica), and Michael Madsen (Reservoir Dogs). The feature is produced by Bruce Timm.
Extras for the Special Edition include two featurettes, a digital copy download, widescreen version, and two episodes of Justice League picked by Timm. The Blu-ray version includes all of the extras on the Special Edition plus two additional Justice League episodes picked by Timm.