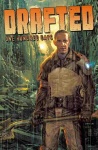 Devil's Due Publishing has announced the June publication of two comic books featuring the image of President Barack Obama, Drafted: 100 Days, and Barack, The Barbarian: Quest for the Treasure of Stimuli. Unlike the respectful kid glove treatment that President Obama has received in his appearances in Amazing Spider-Man, Savage Dragon, and Youngblood, it appears that his likeness will undergo a far different fate in his Devil's Due appearances.
Drafted: 100 Days is a double-size science fiction one-shot by Mark Powers in which an alien invasion forces President Obama to struggle for his survival like any other human, and in a cruel twist of fate, an injury renders the most eloquent President of our modern era mute!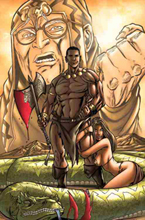 Unlike the serious tone of
Drafted
,
Barack the Barbarian: The Quest for the Treasure of
Stimuli
by Larry Hama is an all-out political satire in which no one is spared.
The elegant and slender Obama is given an out-of-control steroid-enhanced WWE body and, with the help of the sorceress Hilaria and her demi-god trickster husband Bill, forced to do battle with Overlord Boosh, the evil necromancer Chainknee, and the four-eyed ice princess of the
Elephant
Kingdom
.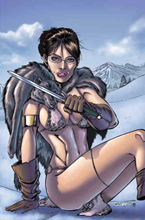 Although Obama's cameo in
Amazing Spider-Man
#583 created a sales phenomenon unprecedented in the modern history of the comics American comics industry (see "
Obama Comic on Top Again
"), his appearances in other comics have resulted in much smaller gains in circulation.
It should be interesting to see what happens to Devil's Due's Obama comics.