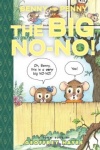 Benny and Penny in The Big No-No!
Toon Books
Creator: Geoffrey Hayes
Release Date: April 2009
$12.95
Format: 32 pages; Full Color; Hardcover
Age Rating: Ages 4-8
ISBN: 978-0-9799238-9-0
ICv2 Rating: 4 out of 5 Stars
In
Benny and Penny in The Big No-No!
Geoffrey Hayes creates a backyard adventure that young readers can relate to--the brother and sister team of Benny and Penny investigate a new neighbor's yard in search of Benny's lost pail. They think they find the missing pail and jump to conclusions about their new neighbor, but eventually they discover their mistake, apologize and make a new friend. Along the way the siblings squabble, but stand up for each other when it counts.
Hayes makes his rodent characters come alive with a wide variety of expressions that draw the readers into to the story. The restricted vocabulary makes this volume a very useful tool for emerging readers, while the fluidly rendered narrative with its occasional flashes of dynamic slapstick humor will delight all sorts of kids and introduce them to the delights of visual storytelling whether they are being read to or reading themselves.
-- Tom Flinn (ICv2)