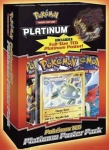 Pokemon USA has announced a pair of products to supplement the release of the next Pokemon TCG expansion, Platinum -- Rising Rivals, which releases May 20 and adds 110 new cards to the Pokemon Trading Card Game (see "Pokemon TCG: Platinum – Rising Rivals").
The Pokemon TCG Platinum Poster Pack comes in a 7-9/16" x 5-1/2" box that includes two boosters from February's Platinum release (see "Pokemon TCG: Platinum"), two three-card promo packs, and a promo card. The box also includes a full-size, folded poster that features all 130 cards from the set.
Also announced was the Pokemon TCG: Platinum Player's Guide, which reveals tips and strategies for using all cards from the Platinum and Rising Rivals sets. All 250+ cards from the two sets are featured in this full-color book, including the four PCO cards. The Player's Guide also comes with the Toxicroak promo card and offers tips for constructing a deck based around it. The ultra-glossy book is packaged to fit in the space occupied by two blistered booster packs.
Both products arrive in stores in May and retail for $9.99 each. Cases include 24 units.