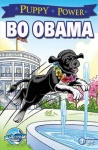 We've had comics on President Obama; on President Obama's wife, First Lady Michelle Obama; and now we can look forward to a comic on the Obama family pet, Bo Obama. If the political comics trend hadn't jumped the shark before, this seems to put it over the top. Of course, that doesn't mean it won't sell; Happy Days went on for years after the famous episode in which the Fonz jumped a shark on water skis.
Bluewater Productions will release Puppy Power: Bo Obama, written and drawn especially for kids by Paul J. Salamoff and Keith Tucker, in September. It will be offered with two covers, by Joshua Labello and Keith Tucker.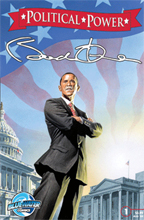 Also coming from Bluewater is

Political Power:

Barack Obama

, by Chris Ward and Azim Akberali, in August, with two covers.

Political Power: Joe Biden, by Wey-Yuih Loh and Jonathan Rector (cover by Vinnie Tartamella), will street in September.

Bluewater has had quite a run with its comic biographies of political figures. Its Female Force biographies on Hillary Clinton and Sarah Palin (see "Sarah Palin Comic Book") have both gone into third printings. It's also got biographies of Colin Powell and Condoleezza Rice in the pipe.

All retail for $3.99.